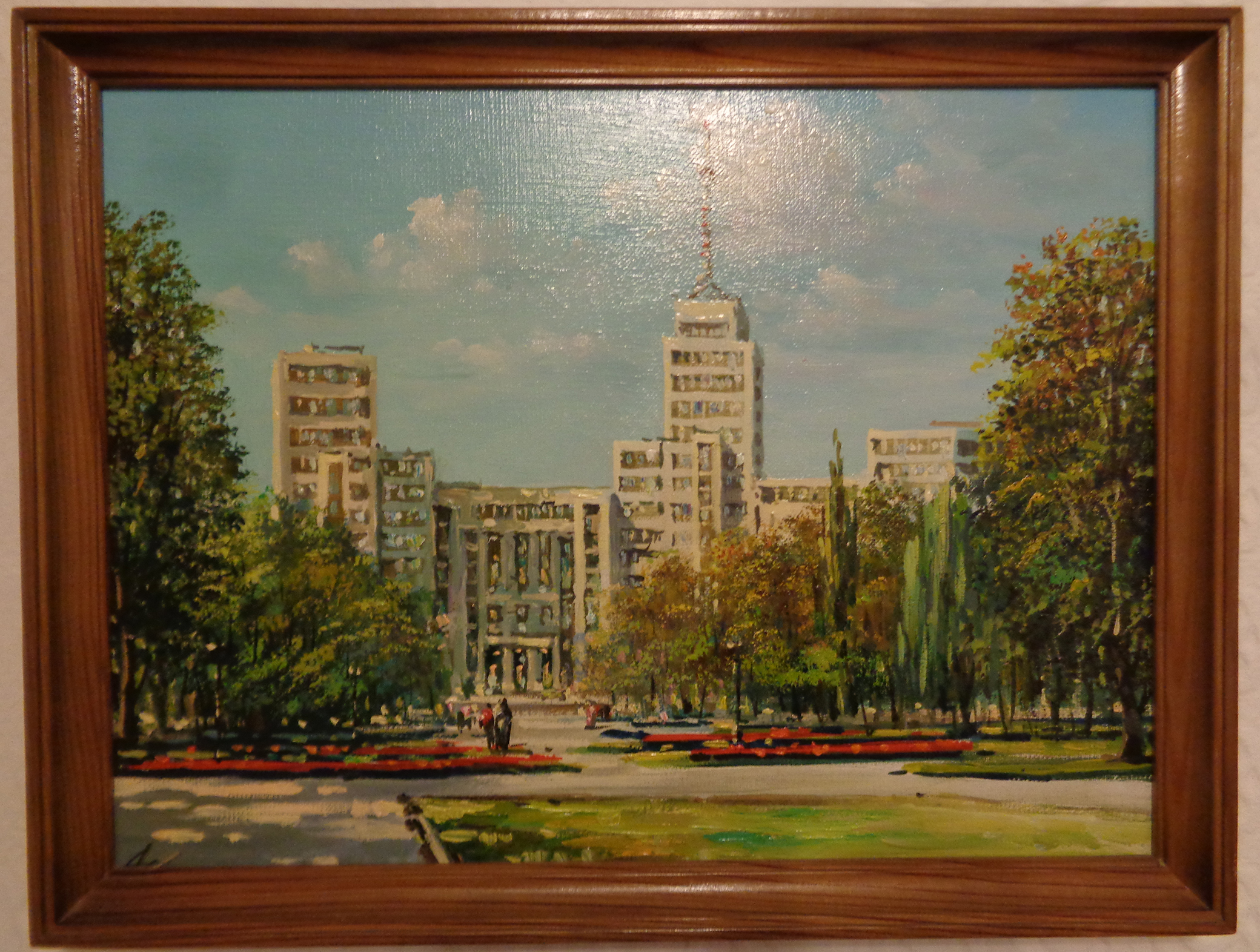 Each issue of Lapham's Quarterly, celebrating its tenth anniversary this year, addresses a theme—States of War, States of Mind, Food, Youth, Animals—by drawing on primary sources throughout history, finding the rhymes and dissonances in how these topics have played out and been perceived over the centuries. In this new series, we open up the sleuthing beyond our staff and four annual themes by letting historians and writers share what they have come across in their recent visits to the archives.
This week's selection comes from Owen Hatherley, author of The Adventures of Owen Hatherley in the Post-Soviet Space, now available from Repeater Books.
---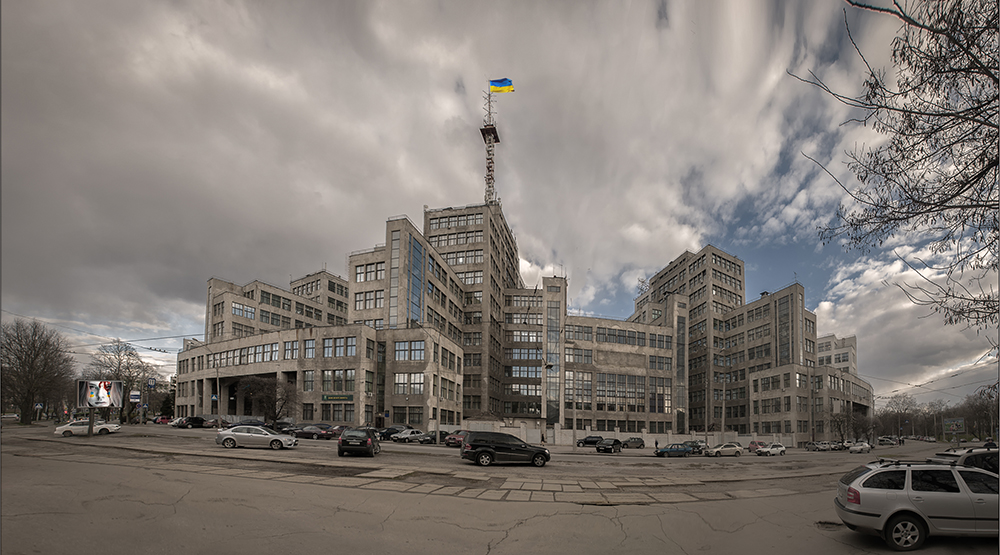 I bought this painting in a market in the Ukrainian second city, Kharkiv, around eight years ago. The market was on one of a series of tree-lined squares that rise on a gentle slope up from a river; one of them was then called Rosa Luxemburg Square, though it has since been "de-communized," after legislation drafted by the Ukrainian Institute of National Memory passed in 2015. The year before, Ukraine had a revolution to "join Europe"; the fact that Berlin and Paris also have Rosa Luxemburg Squares is evidently not compelling proof that the names are European enough. The building depicted in the painting is called Gosprom in Russian—Derzhprom in Ukrainian. It was built as the headquarters of Soviet Ukraine in the 1920s when Kharkiv was its capital.
The building was planned under the initial supervision of the Polish head of the Cheka, Feliks Dzierzynski, as the centerpiece of the biggest square in Europe, which it still is. The plan on the map is a wedge charging into a circle, like on an El Lissitzky design; the only entirely original surviving part is what you can see here, this circus of concrete towers connected at high levels by skyways. When it was built in 1926, it was the most architecturally radical government building on earth. It became an icon for a capital embarking on an experiment in autonomous "national Communism," encouraging Ukrainian culture as much as modernism and internationalism—a project that was effectively abandoned in disaster in 1933 when famine decimated the countryside. The capital was moved to Kiev a couple of years later.
Every big ex-Soviet city has a market which sells a strange mixture of Chinese-made consumer durables, books, postcards, and often paintings, where you can buy what are usually depictions of cathedrals, historic streets in the rain, and so forth. Often, you're buying directly from the painter.
Here you can see basically the same painterly approach taken to the depiction of what was, once, an iconic image of socialist modernism—neither of these being ideas that are particularly widely embraced in twenty-first-century Ukraine. In the painting these ideas are made warm and homely, rather than violent and disruptive.
On buying it, the painter commented on how lovely the light was in it, and right she was. Since bringing it home, I've written with this framed picture of the domestication of the Communist avant-garde on the wall.
---
Want to read more? Here are some past posts from this series:
• Rosellen Brown, author of The Lake on Fire
• Leland de la Durantaye, author of Hannah Versus the Tree
• Patricia Miller, author of Bringing Down the Colonel
• Helen Klein Ross, author of The Latecomers
• Monica Muñoz Martinez, author of The Injustice Never Leaves You
• Tatjana Soli, author of The Removes
• John Wray, author of Godsend
• Imani Perry, author of Looking for Lorraine
• Ken Krimstein, author of The Three Escapes of Hannah Arendt: A Tyranny of Truth
• Scott W. Stern, author of The Trials of Nina McCall: Sex, Surveillance, and the Decades-Long Government Plan to Imprison "Promiscuous" Women
• Katherine Benton-Cohen, historical adviser for the film Bisbee '17
• John Lingan, author of Homeplace: A Southern Town, a Country Legend, and the Last Days of a Mountaintop Honky-Tonk
• Nicholas Smith, author of Kicks: The Great American Story of Sneakers
• Victoria Johnson, author of American Eden: David Hosack, Botany, and Medicine in the Garden of the Early Republic
• Anna Clark, author of The Poisoned City: Flint's Water and the American Urban Tragedy
• Christopher Bonanos, author of Flash: The Making of Weegee the Famous
• Anna-Lisa Cox, author of The Bone and Sinew of the Land: America's Forgotten Black Pioneers and the Struggle for Equality
• Linda Gordon, author of The Second Coming of the KKK: The Ku Klux Klan of the 1920s and the American Political Tradition
• Elizabeth Catte, author of What You Are Getting Wrong About Appalachia
• Ben Austen, author of High-Risers: Cabrini-Green and the Fate of American Public Housing