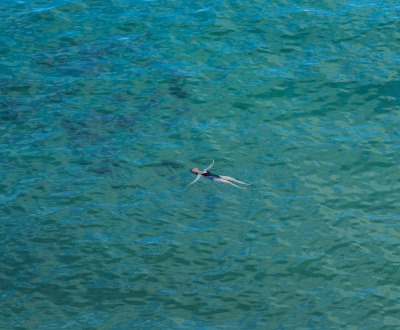 Untitled (November 9, 2013 9:49AM) (detail), by Richard Misrach, 2013. Archival pigment print, 60 x 80 inches. © Richard Misrach, courtesy Fraenkel Gallery, San Francisco, Pace/MacGill Gallery, New York, and Marc Selwyn Fine Art, Los Angeles.
States of Mind
Volume XI, Number 1 | winter 2018
Miscellany
In 2016, after saxophonist Dan Fabbio was diagnosed with a brain tumor, neuroscientists in Rochester, New York, used functional MRI scans to create a brain map indicating areas crucial for music processing. Fabbio was awake during the surgery and, once the tumor was removed, played a Korean folk song to ensure his skill on saxophone remained; the song's short notes allowed him to take shallow breaths so his brain would not protrude from his opened skull.
We need strength, we need energy, we need quickness, and we need brain in this country to turn it around.
—Donald Trump, 2015
Lapham'sDaily
Stay Updated Subscribe to the LQ Newsletter

Roundtable
Looking at 1968 through the eyes of photographer Ernest Withers. More

DÉjÀ Vu
2018:
Woman announces she is divorcing her pirate ghost husband.
1926:
Man sues wife for adultery with a ghost.
More

The World in Time
Lewis H. Lapham talks with Alan Rusbridger, author of Breaking News: The Remaking of Journalism and Why It Matters Now. More