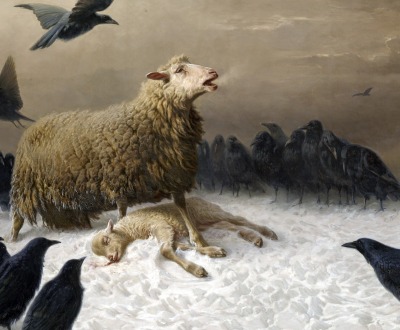 Anguish, by August Friedrich Albrecht Schenck, c. 1878. National Gallery of Victoria, Melbourne.
Animals
Volume VI, Number 2 | spring 2013
Miscellany
According to a study by the Smithsonian Conservation Biology Institute published in 2013, there are in the U.S. around 84 million cats with owners and between 30 and 80 million feral cats, most of which are hunters. The Institute estimates that felines in the latter group kill between 1.4 and 3.7 billion birds a year and around 15 billion mammals.
Histories are more full of examples of the fidelity of dogs than of friends.
—Alexander Pope, 1709
Lapham'sDaily
Stay Updated Subscribe to the LQ Newsletter

Roundtable
Another news cycle, another media mogul stirring up electoral buzz. More

DÉjÀ Vu
2018:
Man auctions Dixie cup that could have touched the lips of Elvis.
1921:
Man auctions Lord Byron's cup made from a human skull.
More

The World in Time
Lewis H. Lapham talks with Holger Hoock, author of Scars of Independence: America's Violent Birth, at a New York Public Library event. More