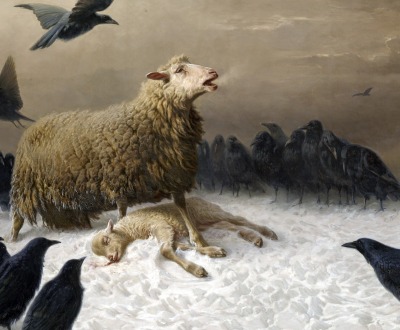 Anguish, by August Friedrich Albrecht Schenck, c. 1878. National Gallery of Victoria, Melbourne.
Animals
Volume VI, Number 2 | spring 2013
Miscellany
In 1872, railroad magnate and racehorse owner Leland Stanford hired Eadweard Muybridge, then famous for his photographs of Yosemite Valley, to capture evidence on film that at a certain point in a horse's trot, all four of its legs were simultaneously off the ground. Five years later, Muybridge developed a camera with a shutter speed of 2/1000 of a second, fast enough to prove Stanford correct.
Imitate the ass in his love to his master.
—St. John Chrysostom,
c.
388