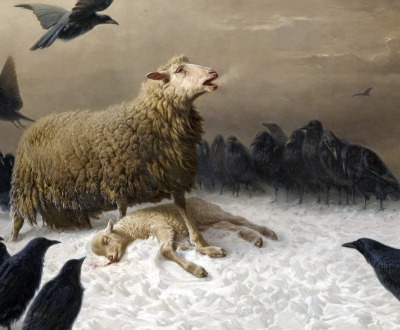 Anguish, by August Friedrich Albrecht Schenck, c. 1878. National Gallery of Victoria, Melbourne.
Animals
Volume VI, Number 2 | spring 2013
Miscellany
According to Diogenes Laërtius' third-century Lives and Opinions of the Eminent Philosophers, Plato was applauded for his definition of man as a featherless biped, so Diogenes the Cynic "plucked the feathers from a cock, brought it to Plato's school, and said, 'Here is Plato's man.'" When asked about the origin of his epithet, cynic deriving from the Greek word for dog, Diogenes replied that it was given to him because he "fawns upon those who give him anything and barks at those who give him nothing."
Cows are among the gentlest of breathing creatures; none show more passionate tenderness to their young when deprived of them—and, in short, I am not ashamed to profess a deep love for these quiet creatures.
- Thomas De Quincey, 1821
Lapham'sDaily
Stay Updated Subscribe to the LQ Newsletter

Roundtable
Listen to the preamble to Music, the Fall 2017 issue of Lapham's Quarterly. More

DÉjÀ Vu
2017:
U.S. Department of Agriculture bans words related to climate change.
-350:
Aristotle denies that the climate is changing.
More

LQ Podcast
Lewis H. Lapham talks with Stephen Greenblatt, author of The Rise and Fall of Adam and Eve. More