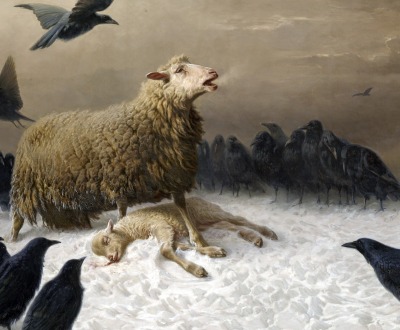 Anguish, by August Friedrich Albrecht Schenck, c. 1878. National Gallery of Victoria, Melbourne.
Animals
Volume VI, Number 2 | spring 2013
Miscellany
"A seaman in the coach told the story of an old sperm whale, which he called a white whale, which was known for many years by the whalemen as Old Tom, and who rushed upon the boats which attacked him, and crushed the boats to small chips in his jaws, the men generally escaping by jumping overboard and being picked up," recorded Ralph Waldo Emerson in his journal on February 19, 1834, adding that the whale "was finally taken somewhere off Payta Head by the Winslow or the Essex." It was the wreck of the Essex in 1820 from which Herman Melville drew inspiration for Moby Dick.
One of the animals which a generous and sociable man would soonest become is a dog. A dog can have a friend; he has affections and character; he can enjoy equally the field and the fireside; he dreams, he caresses, he propitiates; he offends and is pardoned; he stands by you in adversity; he is a good fellow.
—Leigh Hunt, 1834