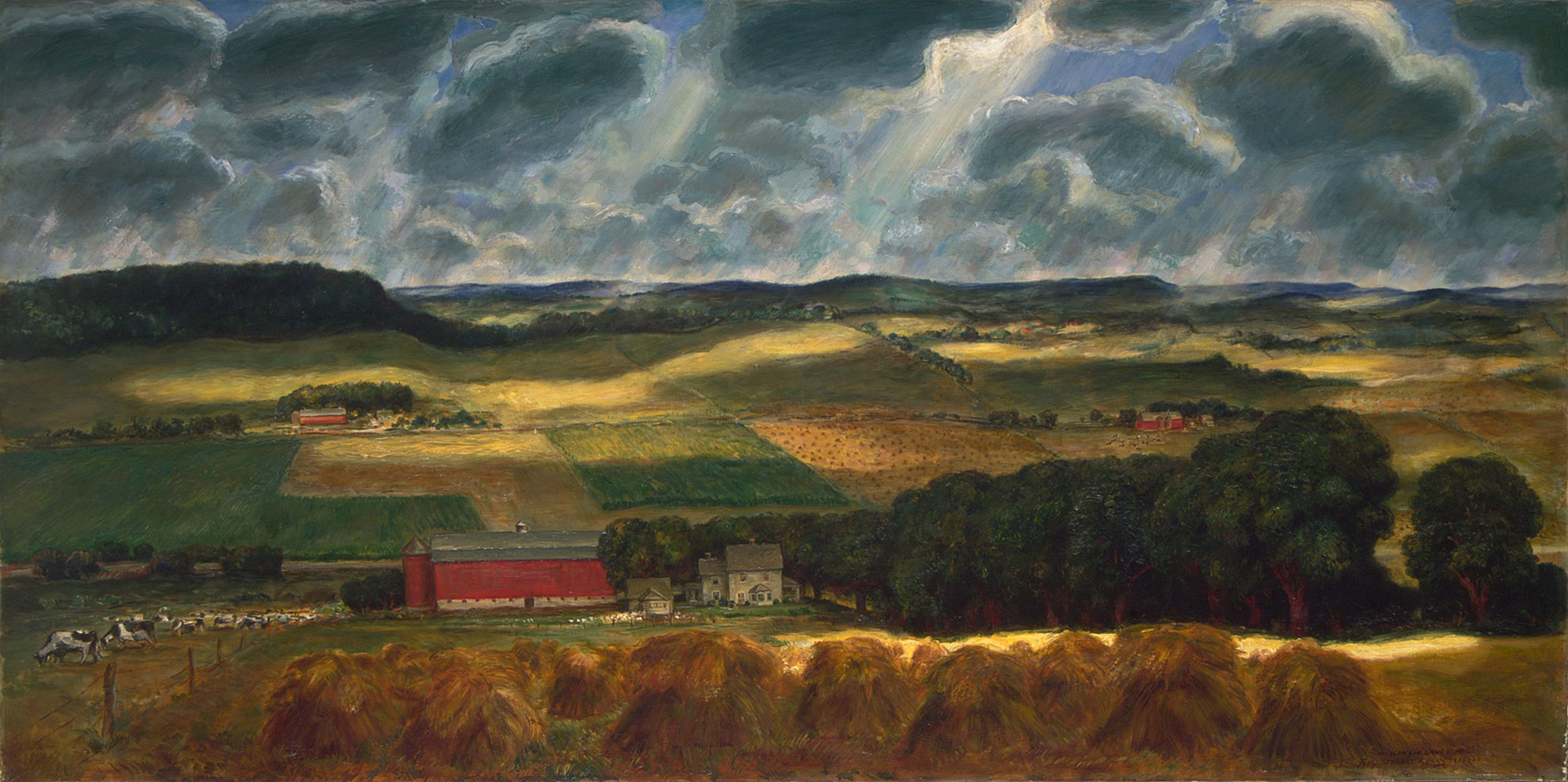 Each issue of Lapham's Quarterly, celebrating its tenth anniversary this year, addresses a theme—States of War, States of Mind, Food, Youth, Animals—by drawing on primary sources throughout history, finding the rhymes and dissonances in how these topics have played out and been perceived over the centuries. In this new series, we open up the sleuthing beyond our staff and four annual themes by letting historians and writers share what they have come across in their recent visits to the archives.
This week's selection comes from Anna-Lisa Cox, author of The Bone and Sinew of the Land: America's Forgotten Black Pioneers and the Struggle for Equality, out now from Public Affairs.
---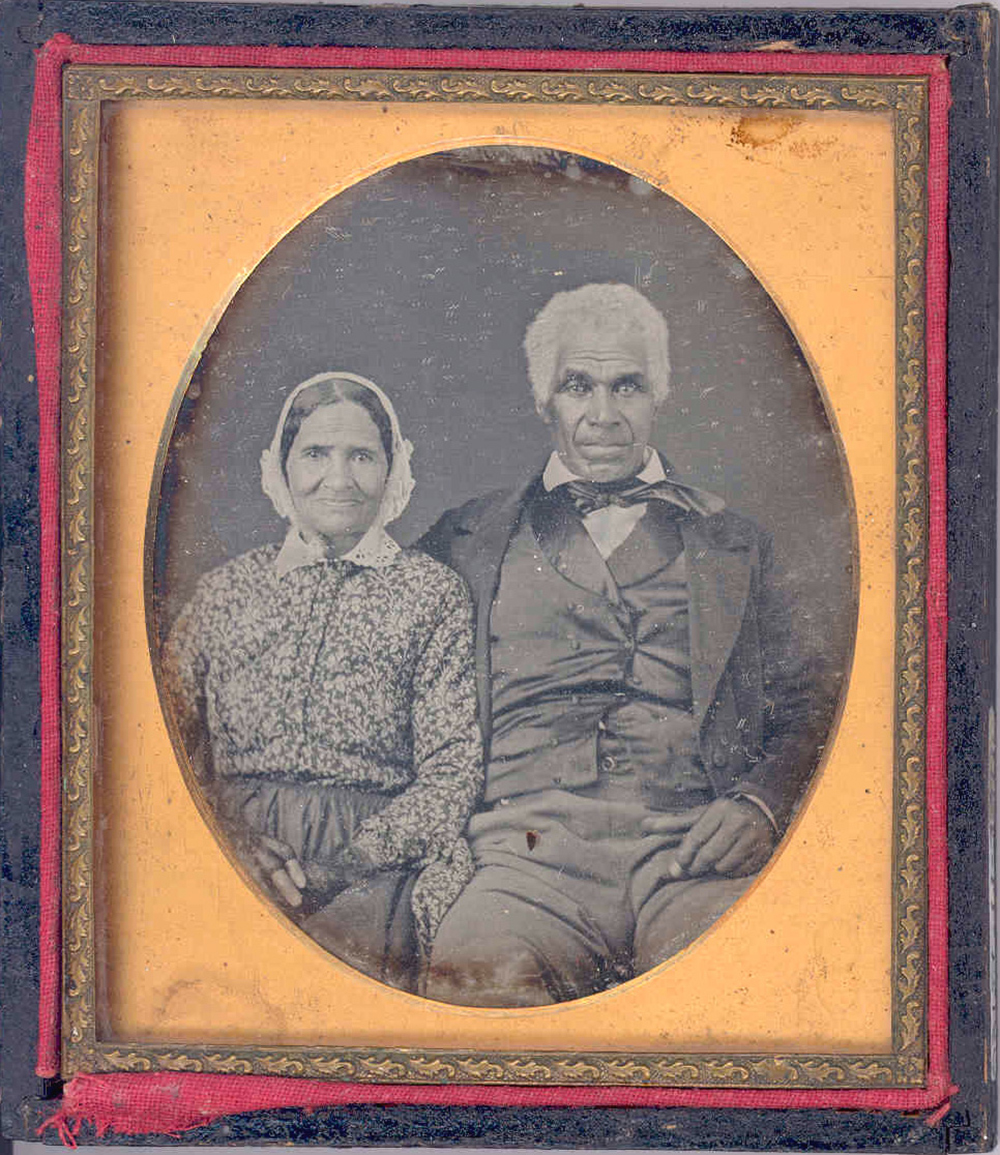 Resolved: In opposing all attempts of African colonizationists or others to expatriate us from the land of our birth…"we will plant our trees in American soil, and repose in the shade thereof."

—Resolution 2, First Convention of the Colored Citizens of the State of Illinois, 1853
Enoch and Deborah Harris were free African American pioneers who homesteaded two frontiers. Enoch had come to Knox County, Ohio, around 1805, and he worked to purchase land and clear a farm before marrying Deborah around 1812. While in Ohio, plat maps show them living close to John Chapman, later known as Johnny Appleseed. When they moved to the Michigan Territory in the late 1820s, the family planted one of the first apple orchards in that region on the four hundred acres of good frontier land they purchased from the federal government. By the time this portrait was taken, Enoch and Deborah were wealthy farmers, their farm valued at over $8,000. Their story is far from unusual. There were thousands of free African American pioneers like them before the Civil War. They scattered across the region in hundreds of settlements across the Northwest Territory states of Ohio, Indiana, Illinois, Michigan, and Wisconsin.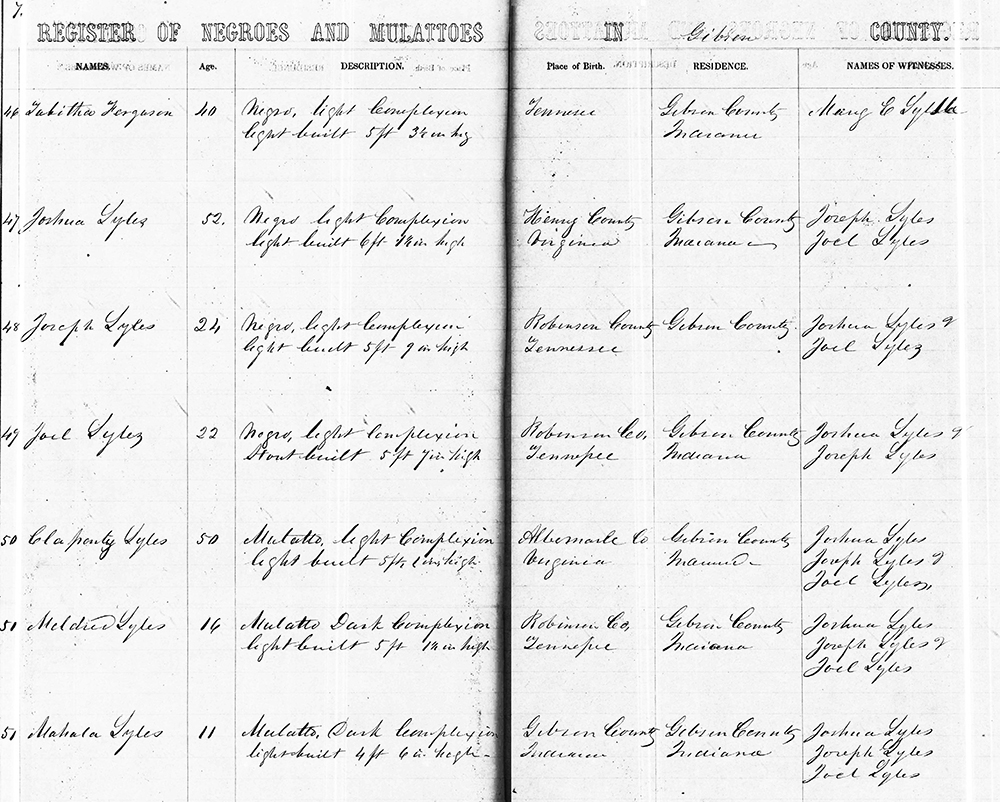 This page is from a book registering all the people of African descent living in Gibson County, Indiana. It is one of the many unjust responses to this first Great Migration and represents a terrible period in the history of the Northwest Territory states and this nation. In 1851 a majority of whites in the state of Indiana ratified a new state constitution that strengthened the racist laws of the state and banned any new African Americans from entering the Indiana for any reason—even to bring a spouse into the state. African Americans already living in Indiana had to be "registered," which meant that their height was measured to the quarter inch by a white county clerk and their bodies described in detail—from their skin color to their scars—in a haunting replica of the descriptions used in slave auctions. Combined with the new federal Fugitive Slave Act and similar state laws, free African Americans across the Northwest Territory states were now assumed to be enslaved unless proven free.
When I found this beautiful book, with its fine leather and gold tooling on the cover, it had been hidden. I had been working in the Gibson County Library in Princeton, Indiana, looking for the earliest African American pioneers to that region, including the Lyles family, who had also homesteaded two frontiers. They had come from Virginia to the Tennessee frontier in the 1810s but had been forced to leave their good farms there in the 1830s, moving to join other African Americans homesteading in Gibson County, Indiana. When I asked one of the volunteers in the library if she had ever heard of one of these registries, she looked uncomfortable but immediately knew what I was talking about. She took me to a small broom closet in the basement and pointed to a stack of old phone books and dictionaries tucked in a corner. Buried under them was this registry. I am grateful to the volunteer for showing the book to me, and to the staff of the library, who have now decided to put the registry online. This book is a reminder not only of the injustice that is buried in America's past but also of the courage and hope that these African Americans had, with their deep roots in this region and their refusal to leave their land despite the legal and actual violence rising against them. There are still African Americans farming around the village of Lyles Station, Gibson County, over two hundred years since the first African American pioneers arrived.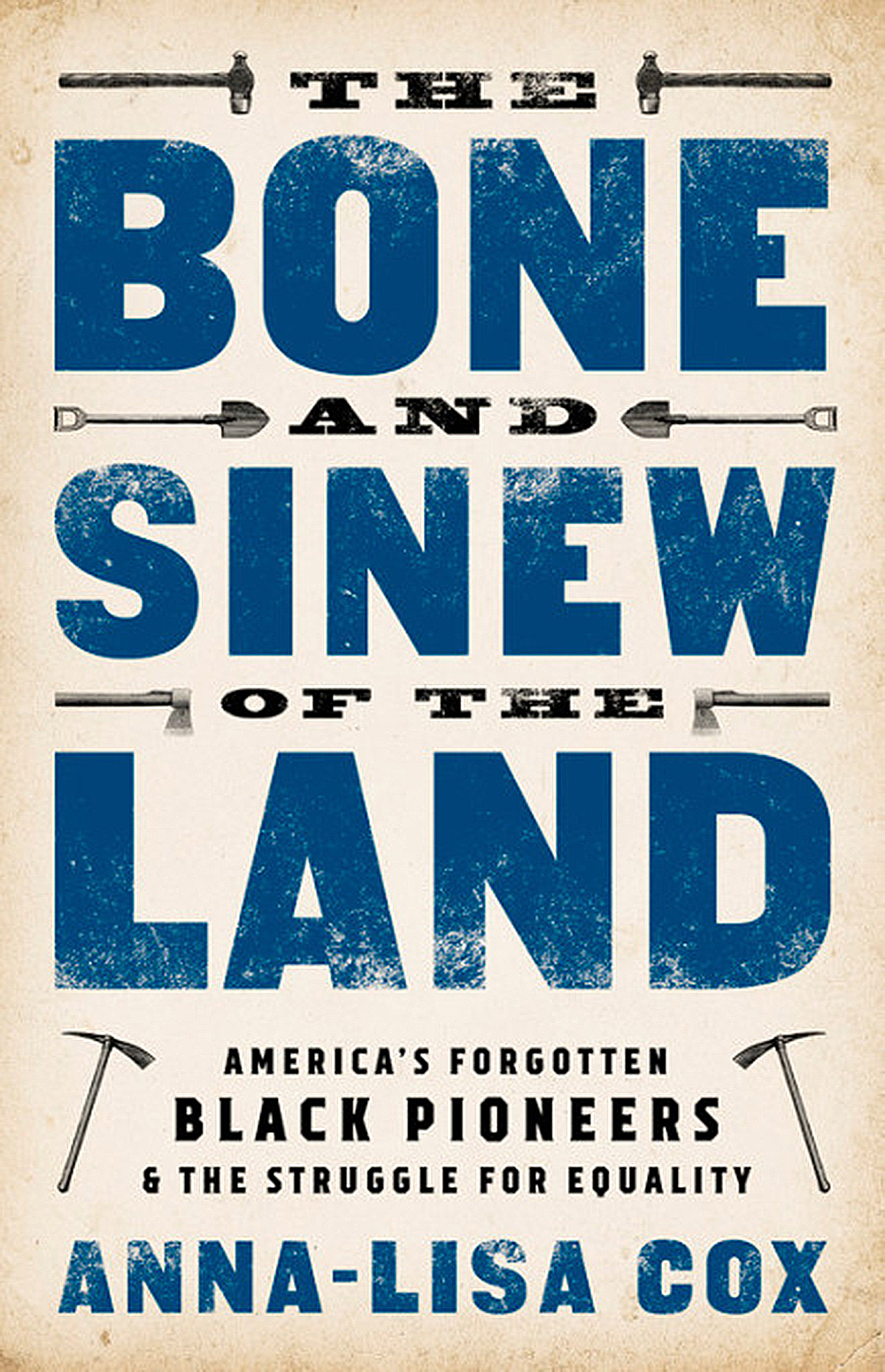 Want to read more? Here are some past posts from this series:
• Sander L. Gilman, author of Stand Up Straight! A History of Posture
• Alastair Bonnett, author of Beyond the Map: Unruly Enclaves, Ghostly Places, Emerging Lands and Our Search for New Utopias
• Scott Samuelson, author of Seven Ways of Looking at Pointless Suffering
• Philip Dray, author of The Fair Chase: The Epic Story of Hunting in America
• Elaine Weiss, author of The Woman's Hour: The Great Fight to Win the Vote
• Stuart Kells, author of The Library: A Catalogue of Wonders
• Linda Gordon, author of The Second Coming of the KKK: The Ku Klux Klan of the 1920s and the American Political Tradition
• Daegan Miller, author of This Radical Land: A Natural History of American Dissent
• Sarah Henstra, author of The Red Word
• Elizabeth Catte, author of What You Are Getting Wrong About Appalachia
• Emily Midorikawa and Emma Claire Sweeney, authors of A Secret Sisterhood: The Literary Friendships of Jane Austen, Charlotte Brontë, George Eliot, and Virginia Woolf
• Ben Austen, author of High-Risers: Cabrini-Green and the Fate of American Public Housing