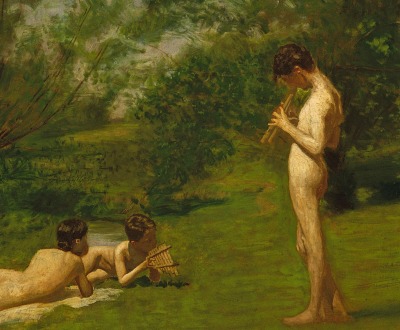 Arcadia, by Thomas Eakins, c. 1883. The Metropolitan Museum of Art, Bequest of Miss Adelaide Milton de Groot, (1876–1967), 1967.
Youth
Volume VII, Number 3 | summer 2014
Miscellany
"The death of a newborn child before that of its parents may seem an unnatural, but it is strictly a probable, event," observed Edward Gibbon in his Memoirs. He was his parents' first child; the next six all died in infancy. Some twenty years earlier, Jean-Jacques Rousseau wrote, "One half of the children who are born die before their eighth year…This is nature's law; why contradict it?"
The thing that impresses me most about America is the way parents obey their children.
- Edward VIII, 1957
Lapham'sDaily
Stay Updated Subscribe to the LQ Newsletter

Roundtable
The extraordinary life and forgotten work of Dixie Willson. More

DÉjÀ Vu
2017:
U.S. Department of Agriculture bans words related to climate change.
-350:
Aristotle denies that the climate is changing.
More

LQ Podcast
Lewis H. Lapham talks with John Strausbaugh, author of City of Sedition: The History of New York City During the Civil War. More