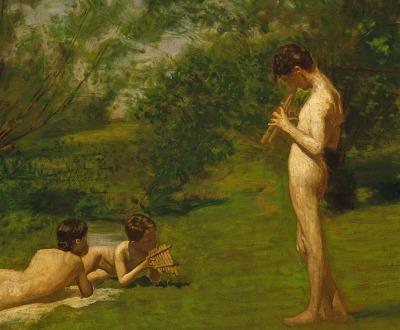 Arcadia, by Thomas Eakins, c. 1883. The Metropolitan Museum of Art, Bequest of Miss Adelaide Milton de Groot, (1876–1967), 1967.
Youth
Volume VII, Number 3 | summer 2014
Miscellany
Joseph Conrad recalled, "It was in 1868, when nine years old or thereabouts, that while looking at a map of Africa of the time and putting my finger on the blank space then representing the unsolved mystery of that continent, I said to myself, with absolute assurance and an amazing audacity which are no longer in my character now, 'When I grow up I shall go there.'"
Grown up, and that is a terribly hard thing to do. It is much easier to skip it and go from one childhood to another.
- F. Scott Fitzgerald, 1945
Lapham'sDaily
Stay Updated Subscribe to the LQ Newsletter

Roundtable
Listen to the preamble to Music, the Fall 2017 issue of Lapham's Quarterly. More

DÉjÀ Vu
2017:
U.S. Department of Agriculture bans words related to climate change.
-350:
Aristotle denies that the climate is changing.
More

LQ Podcast
Lewis H. Lapham talks with Stephen Greenblatt, author of The Rise and Fall of Adam and Eve. More