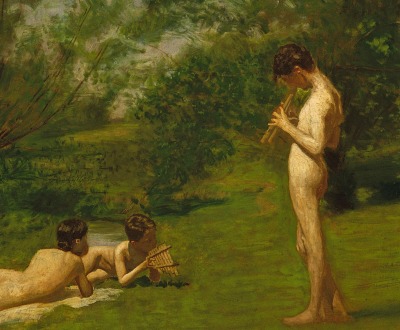 Arcadia, by Thomas Eakins, c. 1883. The Metropolitan Museum of Art, Bequest of Miss Adelaide Milton de Groot (1876–1967), 1967.
Youth
Volume VII, Number 3 | summer 2014
Miscellany
William Blake's wife reminded the poet in old age, "You know, dear, the first time you saw God was when you were four years old, and He put His head to the window and set you a-screaming." Allen Ginsberg said that in 1948, while a senior at Columbia University, he was visited by the voice of Blake, which revealed to him the power of poetry—this was after he had read one of Blake's poems while masturbating.
No one's serious at seventeen.
—Arthur Rimbaud, 1870
Lapham'sDaily
Stay Updated Subscribe to the LQ Newsletter

Roundtable
Looking at 1968 through the eyes of photographer Ernest Withers. More

DÉjÀ Vu
2018:
Woman announces she is divorcing her pirate ghost husband.
1926:
Man sues wife for adultery with a ghost.
More

The World in Time
Lewis H. Lapham talks with Alan Rusbridger, author of Breaking News: The Remaking of Journalism and Why It Matters Now. More