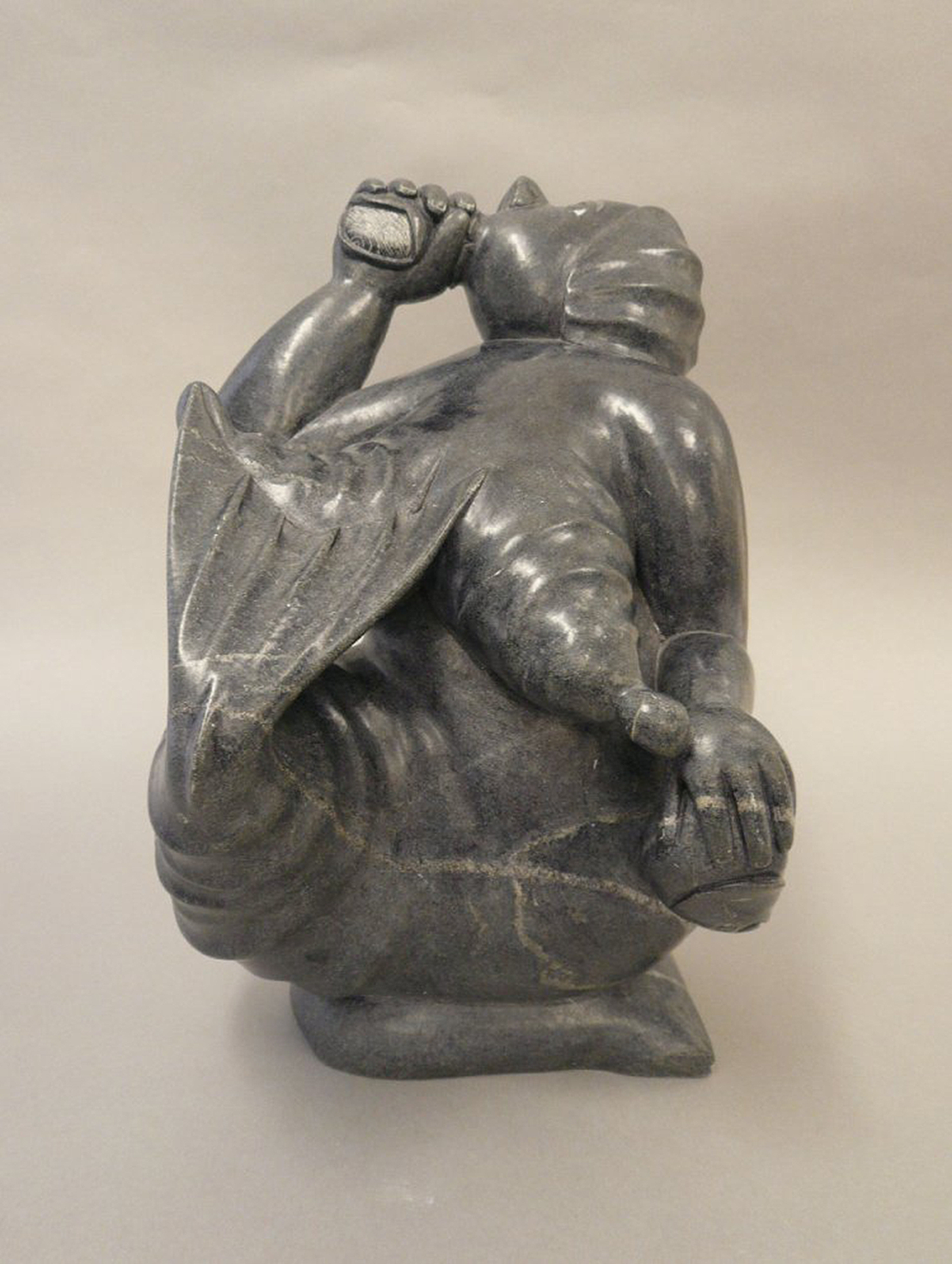 Each issue of Lapham's Quarterly, celebrating its tenth anniversary this year, addresses a theme—States of War, States of Mind, Food, Youth, Animals—by drawing on primary sources throughout history, finding the rhymes and dissonances in how these topics have played out and been perceived over the centuries. In this new series, we open up the sleuthing beyond our staff and four annual themes by letting historians and writers share what they have come across in their recent visits to the archives.
This week's selection comes from Leland de la Durantaye, author of Hannah Versus the Tree, now available from McSweeney's.
---
My novel Hannah Versus the Tree is written in myth and made out of childhood. It contains many myths that children hear and many mythic objects. A statue in smoothest soapstone of the Inuit goddess Sedna was an inspiration in two senses. I wanted to have that lovely object in my book, to use it as a point of plot in my story of love, loss, and vengeance. But I also saw it as a model for how I wanted the book to be as a whole, how I wanted it to feel, which is, as story, sleek, water-going, and myth-minded.
While there is a statue of Sedna in my novel, her story is not told therein. The myth of Sedna is a sad one. Inuit myths, like Greek myths, do not have single definitive versions, only more and less common ones, and so I will tell it as it was told to me.
In the first time there was a village where there lived special sled dogs, magical, some said. One day, the daughter of the chief, the princess Sedna, lay with one of these sublime creatures, and her father, although he loved her, had to banish her. He rowed her to her island of exile. As she could not bear exile from her father and her village and her life, she leapt for the boat and held so fast to the gunwales that the only way her father could loosen her grip was with his knife. As Sedna fell down into the icy ocean her ten fingers fell with her, and they became the creatures of the sea, seals and fish and porpoises and dolphins and whales. Sedna settled on the floor of the ocean as its goddess. The creatures of the sea love their mother and long always to be near her, and so are forever swimming by her. When Sedna grows sad on the seafloor, longing for the world above, she loses all care and forgets even to comb her hair. The creatures of the sea then get caught in her long tangling hair and disappear from the surface, where the Inuit hunters starve. The role of the shamans is to go to the edge of the ice and sing Sedna beautiful songs of the life above water so that her melancholy can lift and she combs out her hair again, releasing, in abundance, the creatures of the sea.
---
Want to read more? Here are some past posts from this series:
• Patricia Miller, author of Bringing Down the Colonel
• Helen Klein Ross, author of The Latecomers
• Monica Muñoz Martinez, author of The Injustice Never Leaves You
• Tatjana Soli, author of The Removes
• John Wray, author of Godsend
• Imani Perry, author of Looking for Lorraine
• Ken Krimstein, author of The Three Escapes of Hannah Arendt: A Tyranny of Truth
• Scott W. Stern, author of The Trials of Nina McCall: Sex, Surveillance, and the Decades-Long Government Plan to Imprison "Promiscuous" Women
• Katherine Benton-Cohen, historical adviser for the film Bisbee '17
• John Lingan, author of Homeplace: A Southern Town, a Country Legend, and the Last Days of a Mountaintop Honky-Tonk
• Nicholas Smith, author of Kicks: The Great American Story of Sneakers
• Victoria Johnson, author of American Eden: David Hosack, Botany, and Medicine in the Garden of the Early Republic
• Anna Clark, author of The Poisoned City: Flint's Water and the American Urban Tragedy
• Christopher Bonanos, author of Flash: The Making of Weegee the Famous
• Anna-Lisa Cox, author of The Bone and Sinew of the Land: America's Forgotten Black Pioneers and the Struggle for Equality
• Linda Gordon, author of The Second Coming of the KKK: The Ku Klux Klan of the 1920s and the American Political Tradition
• Elizabeth Catte, author of What You Are Getting Wrong About Appalachia
• Ben Austen, author of High-Risers: Cabrini-Green and the Fate of American Public Housing