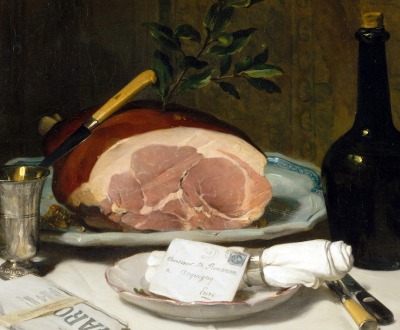 Still Life with Ham, by Philippe Rousseau, c. 1870. The Metropolitan Museum of Art, Catharine Lorillard Wolfe Collection, Wolfe Fund, 1982.
Food
Volume IV, Number 3 | summer 2011
Miscellany
The G8 met in Hokkaido, Japan, in July 2008 to address the global food crisis. Over an eighteen-course meal—including truffles, caviar, conger eel, Kyoto beef, and champagne—prepared by sixty chefs, the world leaders came to a consensus: "We are deeply concerned that the steep rise in global food prices coupled with availability problems in a number of developing countries is threatening global food security."
It is not from the benevolence of the butcher, the brewer, or the baker that we expect our dinner, but from their regard for their own interest.
- Adam Smith, 1776
Lapham'sDaily
Stay Updated Subscribe to the LQ Newsletter

Roundtable
The extraordinary life and forgotten work of Dixie Willson. More

DÉjÀ Vu
2017:
U.S. Department of Agriculture bans words related to climate change.
-350:
Aristotle denies that the climate is changing.
More

LQ Podcast
Lewis Lapham talks with Simon Winchester, author of Pacific: Silicon Chips and Surfboards, Coral Reefs and Atom Bombs, Brutal Dictators, Fading Empires, and the Coming Collision of the World's Superpowers. More