Still Life with Ham, by Philippe Rousseau, c. 1870. The Metropolitan Museum of Art, Catharine Lorillard Wolfe Collection, Wolfe Fund, 1982.
Food
Volume IV, Number 3 | summer 2011
Miscellany
Vomitorium, noun: A large passageway in an ancient amphitheater out of which crowds emptied. In Antic Hay, published in 1924, Aldous Huxley became the first recorded author in English to state erroneously that it was a domestic room in which overfed Romans vomited after feasts.
Most vegetarians I ever saw looked enough like their food to be classed as cannibals.
—Finley Peter Dunne, 1900
Lapham'sDaily
Stay Updated Subscribe to the LQ Newsletter

Roundtable
A debate in Berkeley about the power of a name. More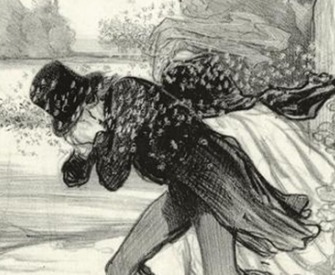 DÉjÀ Vu
2018:
The NYPD beekeeper vacuums up a swarm of bees on a hot dog stand in Times Square.
1906:
Bees take over a Los Angeles street as spectators watch.
More

The World in Time
Lewis H. Lapham talks with Jim Holt, author of When Einstein Walked with Gödel: Excursions to the Edge of Thought. More