Each issue of Lapham's Quarterly addresses a theme—States of War, States of Mind, Food, Youth, Animals—by drawing on primary sources throughout history, finding the rhymes and dissonances in how these topics have played out and been perceived over the centuries. In this series, we open up the sleuthing beyond our staff and four annual themes by letting historians and writers share what they have come across in their recent visits to the archives.
This week's selection comes from Preston Lauterbach, author of Bluff City: The Secret Life of Photographer Ernest Withers, now available from W.W. Norton.
---
Photographer Ernest Withers, active in Memphis from the 1940s until his death in 2007, possessed a knack for getting into situations. Not a bad thing for a photographer, especially when that knack provided for his most important images. But it also led to a secret life and complicated legacy. The traits that made Withers a brilliant photographer also were those of an excellent intelligence operative. After Withers' death, there were reports that he had worked undercover for the FBI during the years he had covered the civil rights movement.
Withers often broke major news in civil rights. During a two-week period in December 1956, Withers told the story of segregationist America in a pair of stunning pictures.
One image showed Elvis Presley and B.B. King. Elvis, at the conclusion of his breakout year—"Heartbreak Hotel," "Don't Be Cruel," "Hound Dog," and "Love Me Tender" had all hit number one—dropped in on the all African American WDIA Goodwill Revue in Memphis that starred, among others, B.B.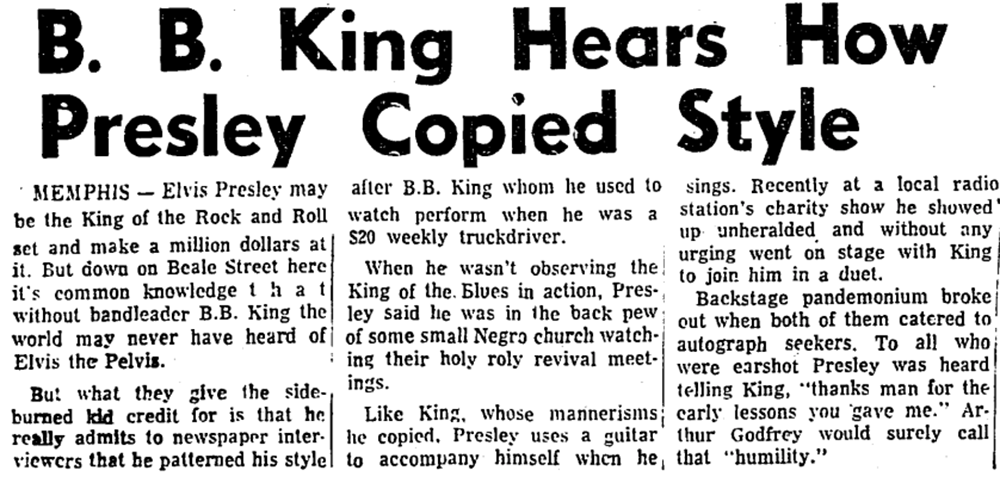 For the most sensational white star in America to pose so comfortably with an African American colleague was big news in 1956. Elvis knowingly risked alienating mainstream white fans and businesspeople.
The photographer knew the real Elvis. Withers had followed a younger Presley around Beale Street, the heart of Memphis' black neighborhood, noting Elvis's quiet respect of African Americans.
Withers' photos of Elvis ran in African American newspapers across the country at a time when integration was the most important issue facing the nation. Elvis, apparently, was a supporter.
Just as the Elvis photo was hitting newsstands, Withers traveled to Montgomery, Alabama. On the morning of December 20, 1956, he rose at four in the morning and boarded a city bus, along with his editor, L. Alex Wilson. A federal judge had effectively banned segregation on public transportation, successfully concluding the yearlong Montgomery bus boycott that Rosa Parks had helped start and a young minister named Martin Luther King Jr. had helped sustain.
Withers would recall that he and Wilson weren't the first black people to ride the front of the bus—two women occupied the first row when the newsmen got on. King and his top aide Ralph Abernathy soon boarded, and Withers took the picture of a contemplative King that helped create an icon. It hangs today in the National Portrait Gallery.
The photographer who had presciently documented the beginning of King's career remained close to the leader until the end. One photograph shows King as a march he led in Memphis broke out into a riot, one week to the day before he was assassinated in the city. The photograph likely is being published here for the first time.
---
Want to read more? Here are some past posts from this series:
• Rosellen Brown, author of The Lake on Fire
• Patricia Miller, author of Bringing Down the Colonel
• Monica Muñoz Martinez, author of The Injustice Never Leaves You
• John Wray, author of Godsend
• Imani Perry, author of Looking for Lorraine
• Ken Krimstein, author of The Three Escapes of Hannah Arendt: A Tyranny of Truth
• Scott W. Stern, author of The Trials of Nina McCall
• Katherine Benton-Cohen, historical adviser for the film Bisbee '17
• Nicholas Smith, author of Kicks: The Great American Story of Sneakers
• Victoria Johnson, author of American Eden
• Anna Clark, author of The Poisoned City: Flint's Water and the American Urban Tragedy
• Christopher Bonanos, author of Flash: The Making of Weegee the Famous
• Linda Gordon, author of The Second Coming of the KKK
• Elizabeth Catte, author of What You Are Getting Wrong About Appalachia
• Ben Austen, author of High-Risers: Cabrini-Green and the Fate of American Public Housing