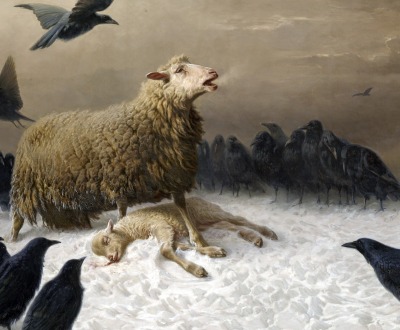 Anguish, by August Friedrich Albrecht Schenck, c. 1878. National Gallery of Victoria, Melbourne.
Animals
Volume VI, Number 2 | spring 2013
Miscellany
In 1872, railroad magnate and racehorse owner Leland Stanford hired Eadweard Muybridge, then famous for his photographs of Yosemite Valley, to capture evidence on film that at a certain point in a horse's trot, all four of its legs were simultaneously off the ground. Five years later, Muybridge developed a camera with a shutter speed of 2/1000 of a second, fast enough to prove Stanford correct.
What delight can there be, and not rather displeasure, in hearing the barking and howling of dogs? Or what greater pleasure is there to be felt when a dog followeth a hare than when a dog followeth a dog?
—Thomas More, 1516