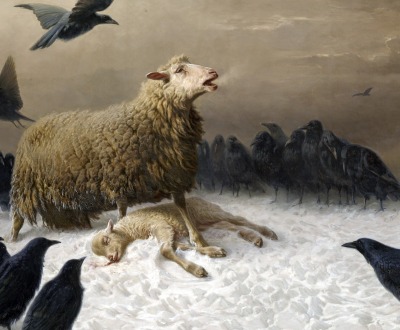 Anguish, by August Friedrich Albrecht Schenck, c. 1878. National Gallery of Victoria, Melbourne.
Animals
Volume VI, Number 2 | spring 2013
Miscellany
Llamas, alpacas, guinea pigs, turkeys, and ducks were among the animals indigenous to the New World that Christopher Columbus encountered on his second voyage there in 1493. On that trip he introduced from the Old World horses, pigs, cattle, sheep, and goats. "A large whale was taken betwixt my land, butting on the Thames and Greenwich," wrote London dweller John Evelyn in his diary on June 3, 1658.
Animals have these advantages over man: they never hear the clock strike, they die without any idea of death, they have no theologians to instruct them, their last moments are not disturbed by unwelcome and unpleasant ceremonies, their funerals cost them nothing, and no one starts lawsuits over their wills.
—Voltaire, 1769