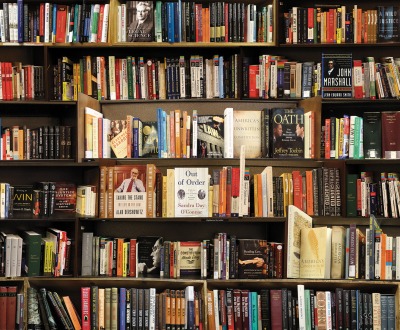 Law, from the series Bookscapes, by Max Steven Grossman, 2016. Digital photograph, 48 x 100 inches. © Max Steven Grossman, courtesy of the artist.
Rule of Law
Volume XI, Number 2 | spring 2018
Miscellany
In a tenth-century epistle by Ismaili collective the Brethren of Purity, animals put the actions of mankind on trial. "Your judges and jurists are the basest, wickedest pharaohs and tyrants!" declares a parrot prosecutor. A human is no sooner appointed judge than he is seen "trotting along on a prancing mule or an ass out of Egypt with a saddle and a parasol trailing to the ground," all this being "the gift of a despot" or paid for by "what he could wring from the due of orphans and divert from the charitable trusts."
In a court of fowls, the cockroach never wins its case.
—Rwandan proverb
Lapham'sDaily
Stay Updated Subscribe to the LQ Newsletter

Roundtable
The treatment of each batch of new immigrants sounds familiar, even if we don't remember where we heard this refrain before. More

DÉjÀ Vu
2018:
Trump humiliates underlings with firings; the media reports metaphoric "stays of execution."
c. 40:
Caligula condemns underlings to fight wild beasts after they fail to acknowledge his genius.
More

The World in Time
Lewis H. Lapham talks with Richard White, author of The Republic for Which It Stands: The United States during Reconstruction and the Gilded Age, 1865–1896. More