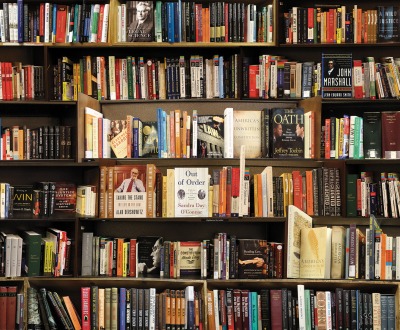 Law, from the series Bookscapes, by Max Steven Grossman, 2016. Digital photograph, 48 x 100 inches. © Max Steven Grossman, courtesy of the artist.
Rule of Law
Volume XI, Number 2 | spring 2018
Miscellany
"Have you eaten a body scab to gain health, or have you drunk a solution of those little worms called lice, or drunk human urine, or eaten any feces to gain health?" asks Burchard of Worms' collection of canon law, compiled around 1008. "If you have, you should do penance for ten days on bread and water."
It is better to live unknown to the law.
—Irish proverb
Lapham'sDaily
Stay Updated Subscribe to the LQ Newsletter

DÉjÀ Vu
2020:
Exoplanet revealed to be nothing but a large cloud of dust.
1903:
Supposed irrigation canals on Mars are merely optical illusions.
More

The World in Time
Lewis H. Lapham speaks with the author of Hitler's First Hundred Days: When Germans Embraced the Third Reich. More