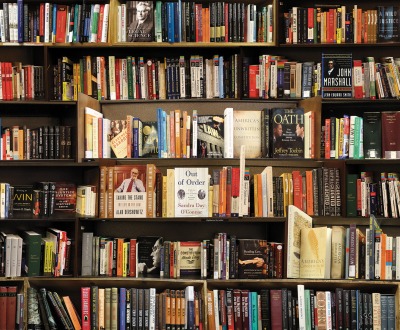 Law, from the series Bookscapes, by Max Steven Grossman, 2016. Digital photograph, 48 x 100 inches. © Max Steven Grossman, courtesy of the artist.
Rule of Law
Volume XI, Number 2 | spring 2018
Miscellany
A Theravada story is told about an early incarnation of the Buddha who, at one month old, watches his father, the king, sentencing criminals to death and corporal punishments. He suddenly remembers a past life in which he, too, condemned men to death, then suffered 80,000 years in hell as karmic comeuppance. He decides to avoid inheriting the throne by pretending to be deaf, dumb, and immobile.
If we do not maintain justice, justice will not maintain us.
—Francis Bacon, 1615
Lapham'sDaily
Stay Updated Subscribe to the LQ Newsletter

Roundtable
Looking at 1968 through the eyes of photographer Ernest Withers. More

DÉjÀ Vu
2018:
Woman announces she is divorcing her pirate ghost husband.
1926:
Man sues wife for adultery with a ghost.
More

The World in Time
Lewis H. Lapham talks with Alan Rusbridger, author of Breaking News: The Remaking of Journalism and Why It Matters Now. More