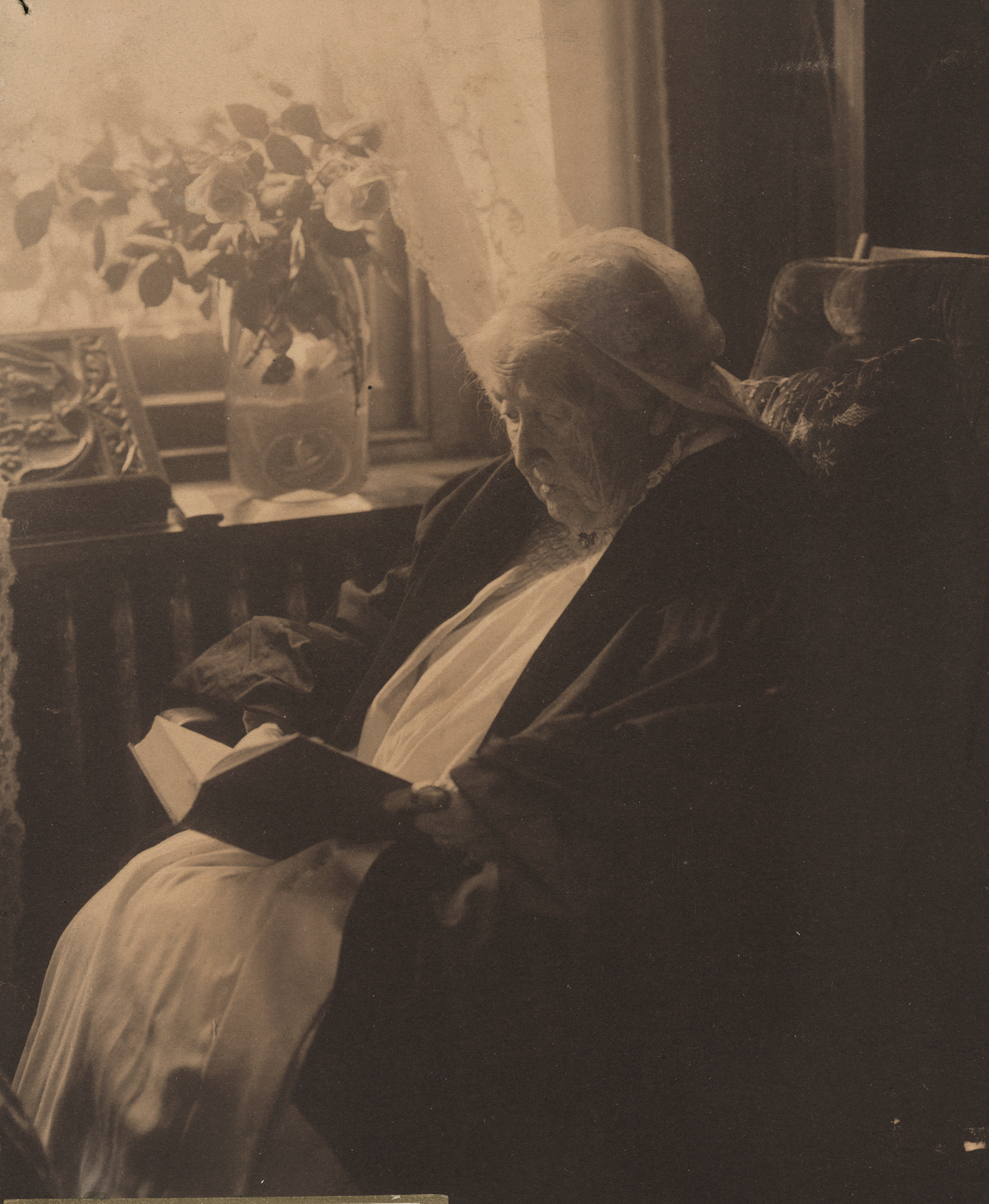 In her 1900 autobiography Reminiscences, Julia Ward Howe wrote, "If I may sum up in one term the leading bent of my life, I will simply call myself a student."
The statement is more than a mite understated. The author of "The Battle Hymn of the Republic"—born two hundred years ago this year—did a lot with what she learned, working with abolitionists and suffragists and somehow also raising six children. But it's also aspirational, showing the benefits of constantly feeding your brain, even if your husband is demeaning you all the while. (Howe's reading list and writing output, like many artifacts of privileged and productive women's lives in the nineteenth century, are monuments to finding time when society has already structured your life to do without it.) Her husband, Samuel Gridley Howe, no longer a memorable name here in the twenty-first century, was nearly eighteen years her senior, famous for joining the Greek army as a surgeon during the Greek Revolution, starting a well-known school for the blind in Boston, and working as an abolitionist.
Dr. Howe used to say of me: "Mrs. Howe is not a great reader, but she always studies."

 

Albeit my intellectual pursuits have always been such as to task my mind, I cannot boast that I have acquired much in the way of technical erudition. I have only drawn from history and philosophy some understanding of human life, some lessons in the value of thought for thought's sake, and, above all, a sense of the dignity of character above every other dignity. Goethe chose well for his motto the words:—

 

"Die Zeit ist mein Vermächtniss, mein Acker ist die Zeit." "Time is my inheritance; time is my estate."

 

But I may choose this for mine:—

 

"I have followed the great masters with my heart."
Below are some of the masters she acquired along the way.
George Sand
Young Julia Ward Howe's reading, Elaine Showalter writes in The Civil Wars of Julia Ward Howe, depended "on which books her father would allow and buy for her." Her father was the sort of man destined to be rich and have children who would marry people with names familiar to early Americans. Samuel Ward, a New York City banker who helped found the college that would become New York University, was the son of a man who fought in the Revolutionary War. His oldest son married an Astor. He was also a Calvinist, and he didn't always think much of his daughter's ambitions.
As she wrote in Reminiscences,
My father retained the Puritan feeling with regard to Saturday evening. He would remark that it was not a proper evening for company, regarding it as a time of preparation for the exercises of the day following, the order of which was very strict. We were indeed indulged on Sunday morning with coffee and muffins at breakfast, but, besides the morning and afternoon services at church, we young folks were expected to attend the two meetings of the Sunday school. We were supposed to read only Sunday books, and I must here acknowledge my indebtedness to Mrs. Sherwood, an English writer now almost forgotten, whose religious stories and romances were supposed to come under this head. In the evening, we sang hymns, and sometimes received a quiet visitor.

 

My readers, if I have any, may ask whether this restricted routine satisfied my mind, and whether I was at all sensible of the privileges which I really enjoyed, or ought to have enjoyed. I must answer that, after my school days, I greatly coveted an enlargement of intercourse with the world. I did not desire to be counted among "fashionables," but I did aspire to much greater freedom of association than was allowed me. I lived, indeed, much in my books, and my sphere of thought was a good deal enlarged by the foreign literatures, German, French, and Italian, with which I became familiar. Yet I seemed to myself like a young damsel of olden time, shut up within an enchanted castle. And I must say that my dear father, with all his noble generosity and overweening affection, sometimes appeared to me as my jailer.
Showalter writes that Howe
dreamed of writing a great novel or play, but she knew very little about either genre. Low Church evangelicals like Samuel Ward suspected fiction of dangerous frivolity, and Julia mentions only a few novels—Paul et Virginie, Dickens, Sir Walter Scott, and Anna Jameson's Diary of an Ennuyée.

 

Julia also had free access to [her brother Sam's] large library—his scientific and mathematical collection, which eventually became part of the New York Public Library, and his French novels, including Balzac, Hugo, and Sand. Julia knew of George Sand as "the evil woman, who wrote such somnambulic books," and she had scarcely dared to imagine "the wicked delight of reading them." But when Sam came back [from his time abroad in Europe], she spent hours every day in his library.
Howe described the importance of George Sand to her and other young women in an essay in The Atlantic in November 1861.
Was she not to all of us, in our early years, a name of doubt, dread, and enchantment? Did not all of us feel, in our young admiration for her, something of the world's great struggle between conservative discipline and revolutionary inspiration? We knew our parents would not have us read her, if they knew. We knew they were right. Yet we read her at stolen hours, with waning and still entreated light; and as we read, in a dreary wintry room, with the flickering candle warning us of late hours and confounding expectations, the atmosphere grew warm and glorious about us,—a true human company, a living sympathy crept near us—the very world seemed not the same world after as before. She had given us a real gift; no criticism could take it away. The hands might be sinful, but the box they broke contained an exceeding precious ointment.

 

At a later day we saw these things rather differently. The electric intoxication over, which book or being gives but once to the same person, its elements were viewed with some distrust. Passing from ideal to real life, as all pass, who live on, we shook our heads over the books, sighed, ceased to read them. Grown mothers ourselves, we quietly removed them as far as possible from the young hands about us, and would rather have deprived them of the noble French language altogether than have allowed it to bring them such lessons as Jacques and Valentine. Yet we retain the old love for her; the world of literature still seems brighter for her footsteps; and should we live to learn her death, tears must follow it, and the sense of a void left by the loss of a true friend, noble and loyal hearted, if mistaken.
Johann Wolfgang von Goethe
Howe sneaked the freedom to read other books as a child but was sometimes caught.
My eldest brother returned from Germany. In conversing with him, I acquired the use of colloquial German. Having, as I have said, the command of his fine library, I was soon deep in Goethe's Faust and Wilhelm Meister, reading also the works of Jean Paul, Matthias Claudius, and Herder.

 

Thus was a new influence introduced into the life of one who had been brought up after the strictest rule of New England Puritanism. I derived from these studies a sense of intellectual freedom so new to me that it was half delightful, half alarming. My father undertook one day to read an English translation of Faust. He presently came to me and said,—

 

"My daughter, I hope that you have not read this wicked book!"
She added,
Although the reading of Byron was sparingly conceded to us, and that of Shelley forbidden, the morbid discontent which characterized these poets made itself felt in our community as well as in England. Here, as elsewhere, it brought into fashion a certain romantic melancholy. It is true that at school we read Cowper's Task, and did our parsing on Milton's Paradise Lost, but what were these in comparison with:—

 

"The cold in clime are cold in blood,"

 

or:—

 

"I loved her, Father, nay, adored."
The Ancients and the World Classics
After she left home, the pool of writers she drew from broadened. History and philosophy pulled at her, as she writes in Reminiscences.
The first writer of importance with whom I made acquaintance after leaving school was Gibbon, whose Decline and Fall of the Roman Empire occupied me during one entire winter. I have already mentioned my early familiarity with the French and Italian languages.

 

In these respective literatures I read the works which in those days were usually commended to young women. These were, in French, Lamartine's poems and travels, Chateaubriand's Atala and René, Racine's tragedies, Molière's comedies; in Italian, Metastasio, Tasso, Alfieri's dramas and autobiography…I read Schiller's plays and prose writings with delight…I read Dante with Felice Foresti…I had early acquired some knowledge of Latin, and in later life found great pleasure in reading the essays and Tusculan dissertations of Cicero. The view of ethics represented in these writings sometimes appeared to me of higher tone than the current morality of Christendom, and I rejoiced in the thought that, even in the Rome of the pre-Christian Caesars, God had not left himself without a witness.
The years changed her and her address, but the reading went on.
During the first score of years of my married life, I resided for the most part at South Boston. This remoteness from city life insured to me a good deal of quiet leisure, much of which I devoted to my favorite pursuits. It was in these days that I turned to my almost forgotten Latin, and read the Aeneid and the histories of Livy and Tacitus. At a later date my brother gave me Orelli's edition of Horace, and I soon came to delight much in that quasi-Hellenic Roman.

 

With no pretensions to correct scholarship, I yet enjoyed these Latin studies quite intensely. They were so much in my mind that, when we sat down to our two o'clock dinner, my husband would sometimes ask: "Have you got those elephants over the river yet?" alluding to Hannibal and the Punic Wars.
Anna Jameson
Being literary and well-to-do, Howe had the opportunity to meet many of the people she read.
It was always a pleasure to welcome distinguished strangers to New York. Mrs. Jameson's visit to the United States, in the year 1835, gave me the opportunity of making acquaintance with that very accomplished lady and author. I was then a girl of sixteen summers, but I had read the Diary of an Ennuyée, which first brought Mrs. Jameson into literary prominence. I read afterward with avidity the two later volumes in which she gives so good an account of modern artwork in Europe. In these she speaks with enthusiasm of certain frescoes in Munich which I was sorry, many years later, to be obliged to consider less beautiful than her description of them would have warranted one in believing. When I perused these works, having myself no practical knowledge of art, their graphic style seemed to give me a clear vision of the things described. The beautiful Pinakothek and Glyptothek of Munich became to me as if I actually saw them, and when it was my good fortune to visit them I seemed, especially in the case of the marbles, to meet with old friends…

 

I met Mrs. Jameson at several other entertainments devised in her honor. She was of middle height, her hair red blond in color. Her face was not handsome, but sensitive and sympathetic in expression. The elegant dames of New York were somewhat scandalized at her want of taste in dress. I actually heard one of them say, "How like the devil she does look!"
Margaret Fuller
In 1883 Howe published a biography of Margaret Fuller, who had drowned thirty-three years earlier. Howe's husband had died seven years earlier—spending most of her money before he went—and all her children were grown. Her husband had often hated her ambitions of being a writer and was embarrassed when she wrote about passions and thoughts he believed should remain in the home (or never exist at all). Now the impediments to her writing had sloughed off slightly. "Death gives an unexpected completeness to the view of individual character," she wrote of Fuller.
The secret of a noble life is only fully unfolded when its outward envelope has met the fate of all things perishable. And so the mournful tragedy just recounted set its seal upon a career whose endeavor and achievement the world is bound to hold dear. When all that could be known of Margaret was known, it became evident that there was nothing of her which was not heroic in intention; nothing which, truly interpreted, could turn attention from a brilliant exterior to meaner traits allowed and concealed. That she had faults we need not deny; nor that, like other human beings, she needs must have said and done at times what she might afterward have wished to have better said, better done. But as an example of one who, gifted with great powers, aspired only to their noblest use; who, able to rule, sought rather to counsel and to help,—she deserves a place in the highest niche of her country's affection. As a woman who believed in women, her word is still an evangel of hope and inspiration to her sex. Her heart belonged to all of God's creatures, and most to what is noblest in them.
Of Fuller's writing, "the defects of her style are easily seen."
They are in some degree the result of her assiduous study of foreign languages, in which the pure and severe idioms of the English tongue were sometimes lost sight of. Among them may be mentioned a want of measure in expression, and also something akin to the fault which is called on the stage "anticlimax," by which some saying of weight and significance loses its point by being followed by another of equal emphasis.
But, she concluded, "the high quality of her mind has left its stamp upon all that she gave to the reading public."
Ralph Waldo Emerson
Howe had qualified praise for other Transcendentalists. As she writes in Reminiscences,
I remember hearing Mr. Emerson, in his discourse on Henry Thoreau, relate that the latter had once determined to manufacture the best lead pencil that could possibly be made. Having attained this end, parties interested at once besought him to make this excellent article attainable in trade. He said, "Why should I do this? I have shown that I am able to produce the best pencil that can be made. This was all that I cared to do." The selfishness and egotism of this point of view did not appear to have entered into Mr. Emerson's thoughts. Upon this principle, which of the great discoverers or inventors would have become a benefactor to the human race? Theodore Parker once said to me, "I do not consider Emerson a philosopher, but a poet lacking the accomplishment of rhyme." This may not be altogether true, but it is worth remembering. There is something of the vates in Mr. Emerson. The deep intuitions, the original and startling combinations, the sometimes whimsical beauty of his illustrations,—all these belong rather to the domain of poetry than to that of philosophy. The high level of thought upon which he lived and moved and the wonderful harmony of his sympathies are his great lesson to the world at large. Despite his rather defective sense of rhythm, his poems are divine snatches of melody. I think that, in the popular affection, they may outlast his prose.
In Reminiscences, Howe provided tips for those who also wanted to find the time and freedom to become lifelong students.
In more recent years, having been called upon to take part in a public discussion regarding the compatibility of domestic with literary occupation, I endeavored to formulate the results of my own experience as follows:—

 

—If you have at your command three hours per diem, you may study art, literature, and philosophy, not as they are studied professionally, but in the degree involved in general culture.

 

—If you have but one hour in every day, read philosophy, or learn foreign languages, living or dead.

 

—If you can command only fifteen or twenty minutes, read the Bible with the best commentaries, and daily a verse or two of the best poetry.

 

As I write this, I recall the piteous image of two wrecks of women, Americans and wives of Americans, who severally poured out their sorrows to me, saying that the preparation of "three square meals a day," the washing, baking, sewing, and childbearing, had filled the measure of their days and exceeded that of their strength: "And yet," each said, "I wanted the Greek and Latin and college courses as much as anyone could wish for it."
For other great masters preferred by great masters, see past entries in our reading list series: Walt Whitman, Willa Cather, Virginia Woolf, Frederick Douglass, Sylvia Plath, Theodore Roosevelt, Nella Larsen, Flannery O'Connor, and Emily Dickinson.