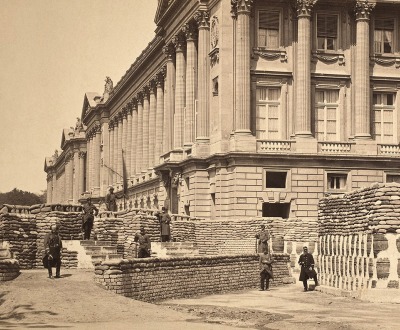 Barricades near the Ministry of the Navy and Hotel Crillon, 1871. Photograph by Hippolyte-Auguste Collard. The Metropolitan Museum of Art, The Elisha Whittelsey Collection, The Elisha Whittelsey Fund, 1959.
In France the period from the summer of 1870 through the spring of 1871 has come to be known as the terrible year: France suffered a humiliating defeat in its war against Prussia, with Paris sieged and the capture of Emperor Napoleon III. Citizens of Paris who refused to capitulate to a new national government in Versailles formed the Paris Commune, which was brutally repressed. One Parisian trying to make sense of it all was Gustave Flaubert, whose novel A Sentimental Education had been published the year before. The novel has come to be seen as prophetic of the events of the terrible year—Flaubert believed the violence of the commune could have been avoided if more people had read his novel.
Lewis H. Lapham talks with Peter Brooks, author of Flaubert in the Ruins of Paris: The Story of a Friendship, a Novel, and a Terrible Year.
Thanks to our generous donors. Lead support for this podcast has been provided by Lisette Prince through the EJMP Fund for Philanthropy. Additional support was provided by James J. "Jimmy" Coleman Jr.
Discussed in this episode