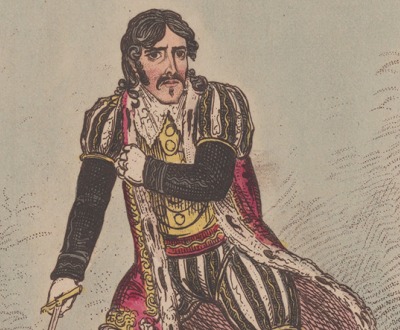 Edmund Kean as Richard III (detail), by George Cruikshank, c. 1814. The Metropolitan Museum of Art, Harris Brisbane Dick Fund, 1917.
"Under what circumstances, Shakespeare asked himself, do cherished institutions, seemingly deep-rooted and impregnable, prove fragile? Why do large numbers of people knowingly accept being lied to? How does a figure like Richard III or Macbeth ascend to the throne?" Stephen Greenblatt asks these questions on the first page of Tyrant: Shakespeare on Politics and goes on to review the potential answers. The Harvard professor also mulls the Bard and current politics (sans any applicable proper nouns that might come to mind) on this episode of The World in Time, in which Lewis Lapham decrees that the book is "a more informed source on the day's events than the whole of our national news media."
Lewis H. Lapham talks with Stephen Greenblatt, author of Tyrant: Shakespeare on Politics.
Thanks to our generous donors. Lead support for this podcast has been provided by Elizabeth "Lisette" Prince. Additional support was provided by James J. "Jimmy" Coleman Jr.
Discussed in this episode