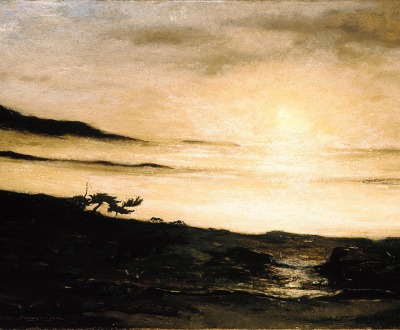 Slumbering Fog, by Elliott Daingerfield, c. 1903. The Metropolitan Museum of Art, Gift of George A. Hearn, 1906.
John Adams and Thomas Jefferson both died on the fiftieth anniversary of the Declaration of Independence, July 4, 1826. Reportedly Adams' last words were "Thomas Jefferson survives"—without realizing his former vice president had predeceased him. Despite the fact that the political colleagues faced off in one of the dirtiest presidential campaigns in American history, the pair ended their lives not only at the same time but as friends who had exchanged letters for years. But their previously acrimonious relationship as leading figures of our first political parties, Pulitzer Prize–winning historian Gordon S. Wood points out in his new book, had an immense effect on the eventual shape of the United States' political fault lines and culture.
Lewis H. Lapham talks with Gordon S. Wood, author of Friends Divided: John Adams and Thomas Jefferson.
Thanks to our generous donors. Lead support for this podcast has been provided by Elizabeth "Lisette" Prince. Additional support was provided by James J. "Jimmy" Coleman Jr.
Discussed in this episode