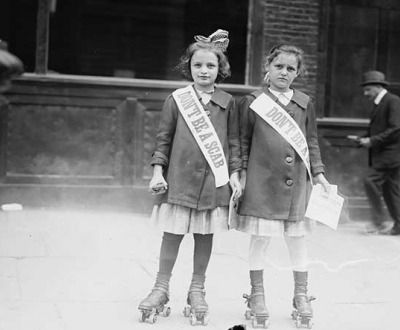 Strike sympathizers, c. 1915. Photograph by Bain News Service. Library of Congress, Prints and Photographs Division.
"If there was one thing that I would want people to take away from American Midnight," Adam Hochschild says on this episode of The World in Time, "it's the idea that democracy, despite all the different checks and balances and the separation of powers and whatnot written into our Constitution more than two hundred years ago, is fragile. It can easily be shattered and broken. It can easily be threatened." And during the stretch of time covered in his latest book, which spans World War I and takes place on the American home front, "I really think a lot of the basic democratic freedoms that we take for granted in this country we lost during that period."
This week on the podcast, Lewis H. Lapham speaks with Adam Hochschild, author of American Midnight: The Great War, a Violent Peace, and Democracy's Forgotten Crisis, about civil liberties, strikes, and Emma Goldman, among other subjects.
Thanks to our generous donors. Lead support for this podcast has been provided by Elizabeth "Lisette" Prince. Additional support was provided by James J. "Jimmy" Coleman Jr.
Discussed in this episode