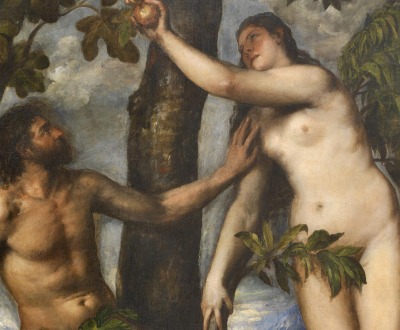 The Fall of Man (detail), by Titian, c. 1550. Prado Museum.
In a new book Pulitzer Prize–winning author Stephen Greenblatt takes up the tale of Adam and Eve, the world's most famous origin story. Greenblatt tracks the tale from its creation, perhaps as a response to the Jews' Babylonian exile, through its varied interpretations, from the time it was viewed symbolically (as it was by early Christian historians) to its acceptance as a literal event (by no less an authority than Saint Augustine) to its deep influence on Renaissance art and literature and its collision with the modern world, most consequentially with the thought of Charles Darwin.
Lewis H. Lapham talks with Stephen Greenblatt, author of The Rise and Fall of Adam and Eve.
Thanks to our generous donors. Lead support for this podcast has been provided by Lisette Prince through the EJMP Fund for Philanthropy. Additional support was provided by James J. "Jimmy" Coleman Jr.
Discussed in this episode