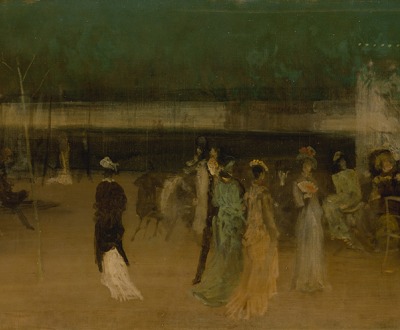 Cremorne Gardens, No. 2, by James McNeill Whistler, c. 1875. The Metropolitan Museum of Art, John Stewart Kennedy Fund, 1912.
"Beyond any doubt the decades from the 1800s to the 1900s witnessed many extraordinary and traumatic challenges and wrenching and disorienting changes," historian David Cannadine writes in the epilogue of Victorious Century, "as expressed and mediated through (among other things) the poetry of Wordsworth and Tennyson, the paintings of Turner and Landseer, the novels of Dickens and Eliot, and even Gilbert and Sullivan's comic operas and Oscar Wilde's brilliantly brittle plays."
But "how far did the men (and apart from Queen Victoria, they were all men) who were ostensibly in charge of the affairs of the United Kingdom and the British Empire understand what was going on and know what they were doing?" The book chronicles many of these events hurtling by those supposedly orchestrating or managing them, starting in 1800 with Ireland being subsumed into the larger kingdom of Great Britain and ending with the general election in 1906, when the Liberal Party squashed the Conservatives for the last time. In this episode of The World in Time, Cannadine explains why he chose those dates as bookends and why the words of Karl Marx and the oft-quoted beginning of A Tale of Two Cities precede his book.
Lewis H. Lapham talks with David Cannadine, author of Victorious Century: The United Kingdom, 1800–1906.
Thanks to our generous donors. Lead support for this podcast has been provided by Elizabeth "Lisette" Prince. Additional support was provided by James J. "Jimmy" Coleman Jr.
Discussed in this episode