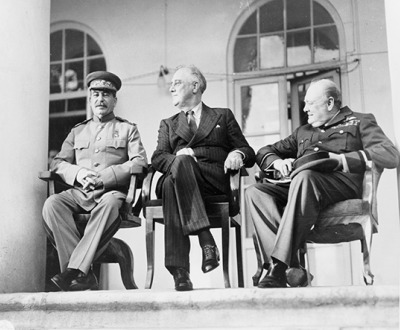 Marshall Josef Stalin, President Franklin D. Roosevelt, and Prime Minister Winston Churchill at the Russian Embassy in Tehran, Iran, 1943. Library of Congress, Prints and Photographs Division, Office of War Information Collection.
"Many historians—too many—have judged Franklin Roosevelt's military role in World War II," Nigel Hamilton writes in the prologue to War and Peace: FDR's Final Odyssey: D-Day to Yalta, 1943–1945, "on the basis of his final year in the Oval Office"—a period of time when he was gravely and terminally ill—"entirely misconstruing his singular, overarching contribution to victory over the Third Reich and the Empire of Japan."
"My aim," Hamilton continues, "has been not only to chart with fresh clarity how dire was his affliction, but how exactly it affected his decisions and once masterly performance as commander in chief of the Western Allies in World War II after Pearl Harbor. It was a record that Winston Churchill—who had been a great national leader, but a deeply flawed commander in chief of British Empire forces—was only too happy to take from him in literary retrospect."
The award-winning historian joins Lewis H. Lapham on the podcast to discuss the third and final volume of his biography of the U.S. president, detailing FDR's legacy and his last moments.
Lewis H. Lapham talks with Nigel Hamilton, author of War and Peace: FDR's Final Odyssey: D-Day to Yalta, 1943–1945.
Thanks to our generous donors. Lead support for this podcast has been provided by Elizabeth "Lisette" Prince. Additional support was provided by James J. "Jimmy" Coleman Jr.
Discussed in this episode