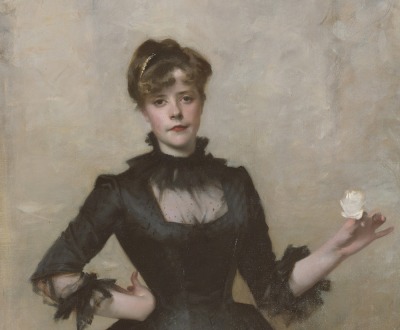 Lady with the Rose (Charlotte Louise Burckhardt), by John Singer Sargent, 1882. The Metropolitan Museum of Art, Bequest of Valerie B. Hadden, 1932.
The period of American history that extends from 1865 to 1896, Stanford historian Richard White writes in the introduction to The Republic for Which It Stands, "for a long time devolved into historical flyover country. Writers and scholars departed the Civil War, taxied through Reconstruction, and embarked on a flight to the twentieth century and the Progressives, while only rarely touching down in between. Such neglect has changed with recent scholarship that has revealed a country transformed by immigration, urbanization, environmental crisis, political stalemate, new technologies, the creation of powerful corporations, income inequality, failure of governance, mounting class conflict, and increasing social, cultural, and religious diversity." In this episode of the podcast, Lewis H. Lapham and White try to dig into as many of these topics as they can, while discussing William Dean Howells' role in capturing all these moments and whether it is fair to call the current moment the second Gilded Age.
Lewis H. Lapham talks with Richard White, author of The Republic for Which It Stands: The United States During Reconstruction and the Gilded Age, 1865-1896.
Thanks to our generous donors. Lead support for this podcast has been provided by Elizabeth "Lisette" Prince. Additional support was provided by James J. "Jimmy" Coleman Jr.
Discussed in this episode