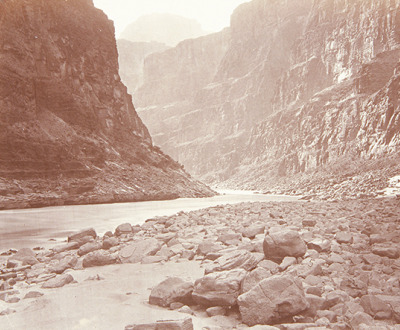 Colorado River, Mouth of Kanab Wash, Looking West, by William Bell, 1872. The Minneapolis Institute of Art, Gift of W. John and Elizabeth Driscoll.
"We've gone from 'Go West' to 'Go Away,' " Greg Grandin tells Lewis H. Lapham at the beginning of this episode of The World of Time. "And that's the arc of the book." Grandin, a professor of history at Yale University and a finalist for the Pulitzer Prize, the National Book Award, and the National Book Critics Circle Award, traces how the idea of the frontier has changed along with America in his book The End of the Myth. He introduces some of the story and its characters—including Frederick Jackson Turner, Andrew Jackson, Woodrow Wilson, and Donald Trump—on the podcast, ending on how the idea of a frontier morphed into a wall. "It's America's new myth, a monument to the final closing of the frontier," he writes. "It is a symbol of a nation that used to believe that it had escaped history, or at least strode atop history, but now finds itself trapped by history, and of a people who used to think they were captains of the future, but now are prisoners of the past."
Lewis H. Lapham talks with Greg Grandin, author of The End of the Myth: From the Frontier to the Border Wall in the Mind of America.
Thanks to our generous donors. Lead support for this podcast has been provided by Elizabeth "Lisette" Prince. Additional support was provided by James J. "Jimmy" Coleman Jr.
Discussed in this episode