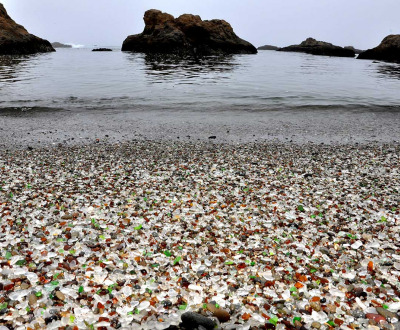 Glass Beach in Fort Bragg, California, 2015. Photograph by Gustavo Gerdel. Wikimedia Commons (CC BY-SA 4.0).
"Long after the last copy of the King James Bible has disintegrated and the Venus de Milo has gone to powder, the glory of our civilization will survive in misshapen, neon-flecked rocks called plastiglomerate: compounds of sand, shells, and molten plastic, forged when candy-bar wrappers and bottle caps burn in campfires," Nathaniel Rich writes at the beginning of Second Nature: Scenes from a World Remade. "Additional clues will be found in the ubiquity of cesium-137, the synthetic isotope produced by nuclear detonations; a several-thousand-year diminution in calcium carbonate deposition, the consequence of ocean acidification; and glacial ice cores (should glaciers remain) registering a dramatic spike of atmospheric carbon dioxide. Future anthropologists might not be able to learn everything there is to know about our culture from these geological markers, but it will be a good start."
This week on the podcast, Lewis H. Lapham and Rich discuss the many ways in which "the natural world is gone, if ever it existed."
Lewis H. Lapham speaks with Nathaniel Rich, author of Second Nature: Scenes from a World Remade.
Thanks to our generous donors. Lead support for this podcast has been provided by Elizabeth "Lisette" Prince. Additional support was provided by James J. "Jimmy" Coleman Jr.
Discussed in this episode