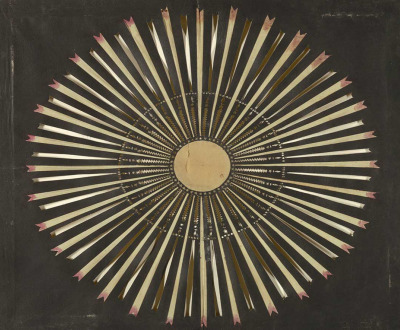 Magic-lantern slide of a rising sun, c. 1780. Cooper Hewitt, Smithsonian Design Museum, museum purchase through gift of Mary Hearn Greims and George A. Hearn and from the Misses Hewitt Fund.
"Americans no longer deify the 'Founding Fathers' in quite the way we once did," the political theorist Dennis C. Rasmussen writes at the beginning of Fears of a Setting Sun: The Disillusionment of America's Founders. "We are keenly aware of their manifold and manifest flaws with regard to slavery and their treatment of the American Indians." And yet, Rasmussen continues, "when our politics go awry we tend to assume that it is because we have failed in some way to live up to the founders' vision—that if we could somehow fulfill their expectations then all would be well. It comes as something of a surprise, then, to learn that the founders themselves were, particularly by the end of their lives, far less confident in the merits of the political system that they had devised, and that many of them in fact deemed it an utter failure that was unlikely to last beyond their own generation."
This week on the podcast, Lewis H. Lapham and Rasmussen discuss what Washington, Jefferson, Adams, and Madison thought of America at the end of their lives—and what hope we might find for our future in this history.
Lewis H. Lapham speaks with Dennis C. Rasmussen, author of Fears of a Setting Sun: The Disillusionment of America's Founders.
Thanks to our generous donors. Lead support for this podcast has been provided by Elizabeth "Lisette" Prince. Additional support was provided by James J. "Jimmy" Coleman Jr.
Discussed in this episode