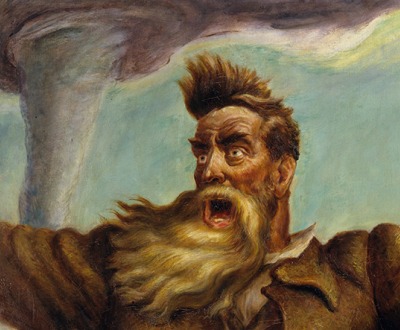 John Brown (detail), by John Steuart Curry, 1939. The Metropolitan Museum of Art, Arthur Hoppock Hearn Fund, 1950.
"One of the reasons I wrote this book," Jill Lepore says of These Truths, "is that people are continually remarking on the suddenness of social movements or forms of political protest. 'Black Lives Matter came out of nowhere!' Black Lives Matter doesn't come out of nowhere. Or the #MeToo movement. 'It's a watershed moment, nothing like it has ever happened!' The #MeToo movement doesn't come out of nowhere. We have a very limited sense of the past. We live in a prison of the present."
In this episode, Lepore, the David Woods Kemper '41 Professor of American History at Harvard University and a staff writer at The New Yorker, also discussed the obligations of the historian, the question of how durable our founding principles are in the constant tumult of technological innovation, and the distance and nearness of the past.
Lewis H. Lapham talks with Jill Lepore, author of These Truths: A History of the United States.
Thanks to our generous donors. Lead support for this podcast has been provided by Elizabeth "Lisette" Prince. Additional support was provided by James J. "Jimmy" Coleman Jr.
Discussed in this episode