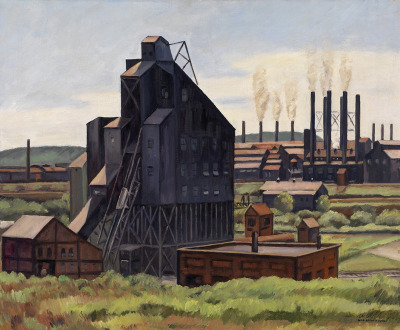 Bethlehem Steel Works, by Max Arthur Cohn, 1938. Smithsonian American Art Museum, Gift of Mr. Max Arthur Cohn, 1978.
Historian Tracy Campbell was not expecting his book on the American home front in 1942 to be as relevant to 2020 as it has become. "After the searing heat of a crisis passes, often the original feelings of impending doom can be almost forgotten," he writes in the epilogue of The Year of Peril: America in 1942. "The pervasive national anxiety of early 1942 would gradually be replaced by nostalgic and comforting memories of Americans confidently coming together, bound by their 'righteous might' to build a vast arsenal that triumphed over enemies on two fronts. That reassuring saga hides a more complicated story. Democracy had survived its most stringent test since the Civil War, but that outcome was far from assured." On this episode of The World in Time, Lewis H. Lapham speaks with Campbell about what happened in that wartime year and which moments from the book resonate most in 2020.
Lewis H. Lapham speaks with Tracy Campbell, author of The Year of Peril: America in 1942.
Thanks to our generous donors. Lead support for this podcast has been provided by Elizabeth "Lisette" Prince. Additional support was provided by James J. "Jimmy" Coleman Jr.
Read an excerpt of The Year of Peril: America in 1942 on Roundtable. 
Discussed in this episode