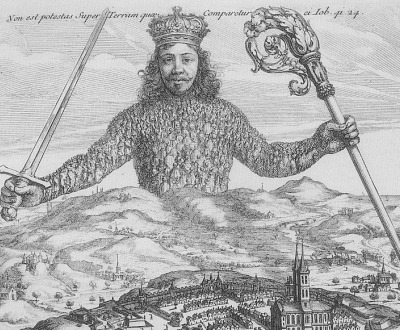 The frontispiece of Leviathan by Thomas Hobbes, engraving by Abraham Bosse, 1651.
In the sixteenth century 300,000 people lived in the imperial quarter of Beijing, which housed the bureaucracy of the Chinese state. At the time Europe had only three cities—London, Naples, and Paris—with as many residents. European governments were by contrast small and static. Over the past five hundred years, partly in response to the grand scale of government power in Asia and the Islamic world, Western nations have gone through a series of revolutions in government: from Thomas Hobbes' imagining of the modern nation state to liberal reforms advocated by John Stuart Mill and William Gladstone and the advent of the welfare state.
Lewis Lapham talks to John Micklethwait, coauthor, with Adrian Wooldridge, of The Fourth Revolution: The Global Race to Reinvent the State, about the history of government in the West and rethinking the machinery of the state in the twenty-first century.
Thanks to our generous donors. Lead support for this podcast has been provided by Lisette Prince through the EJMP Fund for Philanthropy. Additional support was provided by James J. "Jimmy" Coleman Jr.
Discussed in this episode