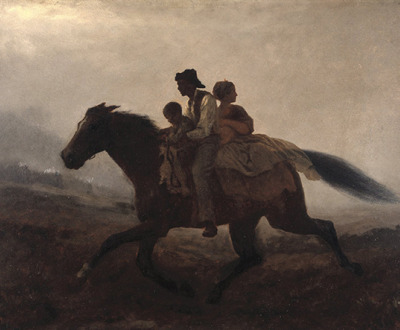 A Ride for Liberty—The Fugitive Slaves, by Eastman Johnson, c. 1862. Brooklyn Museum, Gift of Gwendolyn O.L. Conkling.
"There is an aphorism attributed to Mark Twain (though no evidence exists that he ever said it) that while history does not repeat itself, it does rhyme," historian Andrew Delbanco writes at the beginning of The War Before the War, which is now available in paperback. "The fugitive slave story is a rhyming story. It is impossible to follow it without hearing echoes in our own time. It is about the breakup of the two major political parties in antebellum America. It is about the rise of what might be called the first Black Lives Matter movement, as black people in the North protested the outrage of slavery and stormed the jails where runaway slaves were held…most of all, it reminds us at every turn of how enduring the devastating effects of America's original accommodation with slavery were—and are—on the lives of black Americans."
On this episode of The World in Time, Lewis H. Lapham and Delbanco discuss the effects of fugitive slave laws on all people living in the United States before the Civil War, and how those people responded to the existence of an unjust law in a world where no one knew what would happen next—the war, Reconstruction, and everything that came after.
Lewis H. Lapham speaks with Andrew Delbanco, author of The War Before the War: Fugitive Slaves and the Struggle for America's Soul from the Revolution to the Civil War.
Thanks to our generous donors. Lead support for this podcast has been provided by Elizabeth "Lisette" Prince. Additional support was provided by James J. "Jimmy" Coleman Jr.
Discussed in this episode