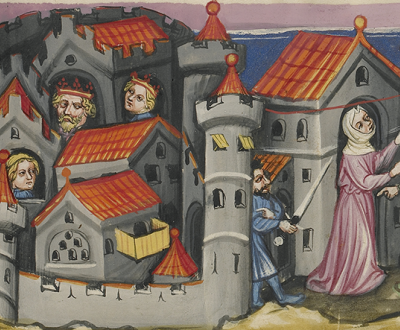 Rehab Hiding the Spies in Jericho (detail), c. 1405. The J. Paul Getty Museum, Los Angeles. Digital image courtesy of the Getty's Open Content Program.
Donald Maclean, Roland Philipps says on the latest episode of The World in Time, was "in my opinion, the most dangerous of the Cambridge Five." Philipps, grandson of the last man from the Foreign Office to see the diplomat before he defected, focuses on the life of Maclean in his new book. He spoke with Lewis Lapham about Maclean's life and why he, of all the infamous spies, is so interesting to read about: "His influence is still felt today, and apart from anything else, he was a completely fascinating character."
Lewis H. Lapham talks with Roland Philipps, author of A Spy Named Orphan: The Enigma of Donald Maclean.
Thanks to our generous donors. Lead support for this podcast has been provided by Elizabeth "Lisette" Prince. Additional support was provided by James J. "Jimmy" Coleman Jr.
Discussed in this episode