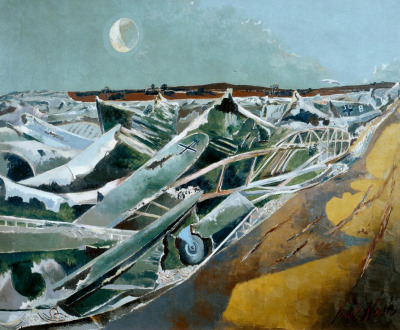 Totes Meer (Dead Sea), by Paul Nash, c. 1940. Photograph © Tate (CC-BY-NC-ND 3.0).
"About twenty years ago," the historian Geoffrey Wheatcroft says on the latest episode of The World in Time, "Umberto Eco said he was amused by a survey in which a quarter of British schoolchildren thought that Winston Churchill was a fictional character. But in fact in a way that is what he has become. He has become something outside conventional history. This is demonstrated by his portrayal in popular culture. It dawned on me in recent years: if you go to a movie called Lincoln, it will be hero-worshipping, and respectful in the Spielberg manner, but it will stick quite close to historical fact. But if you go to a movie called Churchill…or Darkest Hour…they are complete travesties that bear no resemblance whatsoever to historical fact. And nobody minds."
Lewis H. Lapham speaks with Geoffrey Wheatcroft, author of Churchill's Shadow: The Life and Afterlife of Winston Churchill.
Thanks to our generous donors. Lead support for this podcast has been provided by Elizabeth "Lisette" Prince. Additional support was provided by James J. "Jimmy" Coleman Jr.
Discussed in this episode