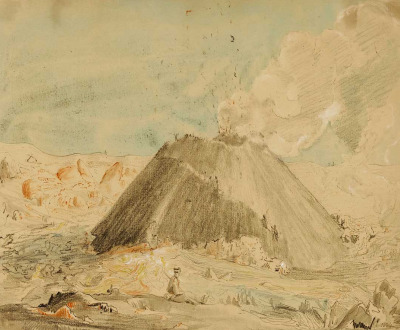 Figures Near Volcano, by Miner Kilbourne Kellogg, nineteenth century. Smithsonian American Art Museum, bequest of Martha F. Butler, 1991.
The journey at the heart of this week's episode of The World in Time is "the most important story of our age" for writer and explorer Nicholas Crane. "We're in the grips now of both a Covid-19 pandemic and rapid climate change, which are putting greater demands on international science than anything that's gone before us. And if you track back through time and ask yourself, When did international collaboration on a scientific challenge begin?, you end up in 1735 in a port in western France on a ship called Portefaix bound for the Caribbean and South America."
Lewis H. Lapham speaks with Nicholas Crane, author of Latitude: The True Story of the World's First Scientific Expedition, about the legacy of that voyage.
Thanks to our generous donors. Lead support for this podcast has been provided by Elizabeth "Lisette" Prince. Additional support was provided by James J. "Jimmy" Coleman Jr.
Discussed in this episode