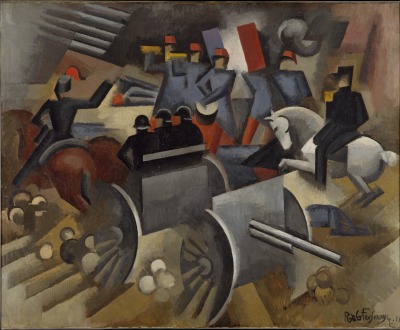 Artillery, by Roger de la Fresnaye, 1911. The Metropolitan Museum of Art, Gift of Florene M. Schoenborn, 1991.
Franklin D. Roosevelt's first pair of Hundred Days in 1933 and 1935 unleashed an alphabet-soup array of acronyms designed to help those devastated by the Great Depression. The third one, which provides the backdrop for historian Susan Dunn's A Blueprint for War, was powered by a different crisis. "Far more than the nation's economic and social well-being was now at stake," Dunn writes. "The lives of tens of millions of people around the world and the fate of free and democratic governments everywhere hung in the balance. Judeo-Christian morality along with the Enlightenment principles of freedom under law, individual rights, and due process trembled on the verge of extinction."
The Williams College professor spoke with Lewis Lapham about the setting for this moment and what followed—the Lend-Lease Act, America First, and, eventually, a declaration of war—in this episode of The World in Time.
Lewis H. Lapham talks with Susan Dunn, author of A Blueprint for War: FDR and the Hundred Days That Mobilized America.
Thanks to our generous donors. Lead support for this podcast has been provided by Elizabeth "Lisette" Prince. Additional support was provided by James J. "Jimmy" Coleman Jr.
Discussed in this episode