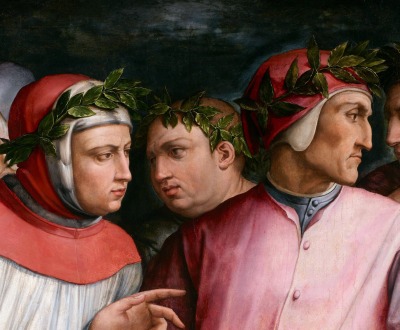 Six Tuscan Poets, by Giorgio Vasari, 1544. Minneapolis Institute of Arts, Minnesota.
Communication
Volume V, Number 2 | spring 2012
Miscellany
Henry James said in 1915, "The war has used up words…they have, like millions of other things, been more overstrained and knocked about and voided of the happy semblance during the last six months than in all the long ages before, and we are now confronted with a depreciation of all our terms." While writing A Farewell to Arms, Ernest Hemingway copied out part of this interview, wrote above it "on the debasement of words by war," and gave his main character the line, "Abstract words such as glory, honor, courage, or hallow were obscene beside the c
We should have a great many fewer disputes in the world if words were taken for what they are, the signs of our ideas only, and not for things themselves.
—John Locke, 1690
Lapham'sDaily
Stay Updated Subscribe to the LQ Newsletter

DÉjÀ Vu
2020:
Exoplanet revealed to be nothing but a large cloud of dust.
1903:
Supposed irrigation canals on Mars are merely optical illusions.
More

The World in Time
Lewis H. Lapham speaks with the author of Hitler's First Hundred Days: When Germans Embraced the Third Reich. More