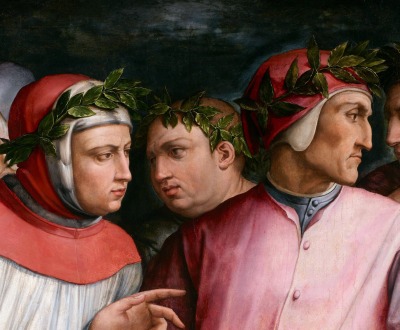 Six Tuscan Poets, by Giorgio Vasari, 1544. Minneapolis Institute of Arts, Minnesota.
Communication
Volume V, Number 2 | spring 2012
Miscellany
The so-called Wicked Bible, published in 1631, accidentally printed the Seventh Commandment as "Thou shalt commit adultery." The printer, Robert Barker, was fined three hundred pounds. 
What a glut of books! Who can read them? As already, we shall have a vast chaos and confusion of books; we are oppressed with them, our eyes ache with reading, our fingers with turning.
—Robert Burton, 1621
Lapham'sDaily
Stay Updated Subscribe to the LQ Newsletter

Roundtable
Looking at 1968 through the eyes of photographer Ernest Withers. More

DÉjÀ Vu
2018:
Woman announces she is divorcing her pirate ghost husband.
1926:
Man sues wife for adultery with a ghost.
More

The World in Time
Lewis H. Lapham talks with Alan Rusbridger, author of Breaking News: The Remaking of Journalism and Why It Matters Now. More