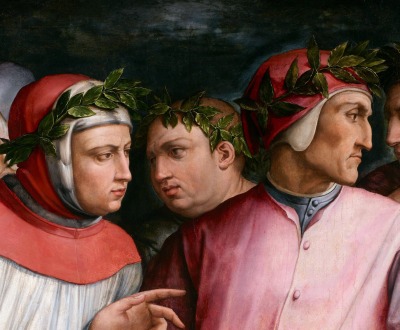 Six Tuscan Poets, by Giorgio Vasari, 1544. Minneapolis Institute of Arts, Minnesota.
Communication
Volume V, Number 2 | spring 2012
Miscellany
During the rule of Charlemagne in the late eighth and early ninth centuries, the Carolingian Renaissance saw the revival of Latin studies, the creation of a royal scriptorium, Alcuin's revision of the Vulgate Bible, and the advent of a minuscule (lowercase) writing system, which eased the labor of copying. Charlemagne himself, however, could barely write a word in any language.
Every man is surrounded by a neighborhood of voluntary spies.
—Jane Austen, 1818
Lapham'sDaily
Stay Updated Subscribe to the LQ Newsletter

Roundtable
Another news cycle, another media mogul stirring up electoral buzz. More

DÉjÀ Vu
2018:
Man auctions Dixie cup that could have touched the lips of Elvis.
1921:
Man auctions Lord Byron's cup made from a human skull.
More

The World in Time
Lewis H. Lapham talks with Holger Hoock, author of Scars of Independence: America's Violent Birth, at a New York Public Library event. More