The Spelling Book
Booker T. Washington goes to night school.
The first thing I ever learned in the way of book knowledge was while working in a salt furnace. Each salt packer had his barrels marked with a certain number. The number allotted to my stepfather was 18. At the close of the day's work, the boss of the packers would come around and put 18 on each of our barrels, and I soon learned to recognize that figure wherever I saw it, and after a while got to the point where I could make that figure, though I knew nothing about any other figures or letters.
From the time that I can remember having any thoughts about anything, I recall that I had an intense longing to learn to read. I determined, when quite a small child, that if I accomplished nothing else in life, I would in some way get enough education to enable me to read common books and newspapers. Soon after we got settled in some manner in our new cabin in West Virginia, I induced my mother to get hold of a book for me. How or where she got it I do not know, but in some way she procured an old copy of Webster's "blue-back" spelling book, which contained the alphabet, followed by such meaningless words as ab, ba, ca, da. I began at once to devour this book, and I think that it was the first one I ever had in my hands. I had learned from somebody that the way to begin to read was to learn the alphabet, so I tried in all the ways I could think of to learn it—all of course without a teacher, for I could find no one to teach me. At that time there was not a single member of my race anywhere near us who could read, and I was too timid to approach any of the white people. In some way, within a few weeks, I mastered the greater portion of the alphabet. In all my efforts to learn to read, my mother shared fully my ambition, and sympathized with me and aided me in every way that she could. Though she was totally ignorant, so far as mere book knowledge was concerned, she had high ambitions for her children and a large fund of good, hard, common sense which seemed to enable her to meet and master every situation. If I have done anything in life worth attention, I feel sure that I inherited the disposition from my mother.
The young leading the young is like the blind leading the blind.
—Philip Dormer Stanhope, 1747
In the midst of my struggles and longing for an education, a young colored boy who had learned to read in the state of Ohio came to Malden. As soon as the colored people found out that he could read, a newspaper was secured, and at the close of nearly every day's work this young man would be surrounded by a group of men and women who were anxious to hear him read the news contained in the papers. How I used to envy this man! He seemed to me to be the one young man in all the world who ought to be satisfied with his attainments.
About this time the question of having some kind of a school opened for the colored children in the village began to be discussed by members of the race. As it would be the first school for Negro children that had ever been opened in that part of West Virginia, it was, of course, to be a great event, and the discussion excited the widest interest. The most perplexing question was where to find a teacher. The young man from Ohio who had learned to read the papers was considered, but his age was against him. In the midst of the discussion about a teacher, another young colored man from Ohio, who had been a soldier, found his way into town. It was soon learned that he possessed considerable education, and he was engaged by the colored people to teach their first school. As yet no free schools had been started for colored people in that section, hence each family agreed to pay a certain amount per month, with the understanding that the teacher was to "board round"—that is, spend a day with each family. This was not bad for the teacher, for each family tried to provide the very best on the day the teacher was to be its guest. I recall that I looked forward with an anxious appetite to the "teacher's day" at our little cabin.
This experience of a whole race beginning to go to school for the first time presents one of the most interesting studies that has ever occurred in connection with the development of any race. Few people who were not right in the midst of the scenes can form any exact idea of the intense desire which the people of my race showed for an education. As I have stated, it was a whole race trying to go to school. Few were too young, and none too old, to make the attempt to learn. As fast as any kind of teachers could be secured, not only were day schools filled, but night schools as well. The great ambition of the older people was to try to learn to read the Bible before they died. With this end in view, men and women who were fifty or seventy-five years old would often be found in the night school. Sunday schools were formed soon after freedom, but the principal book studied in the Sunday school was the spelling book. Day school, night school, Sunday school were always crowded, and often many had to be turned away for want of room.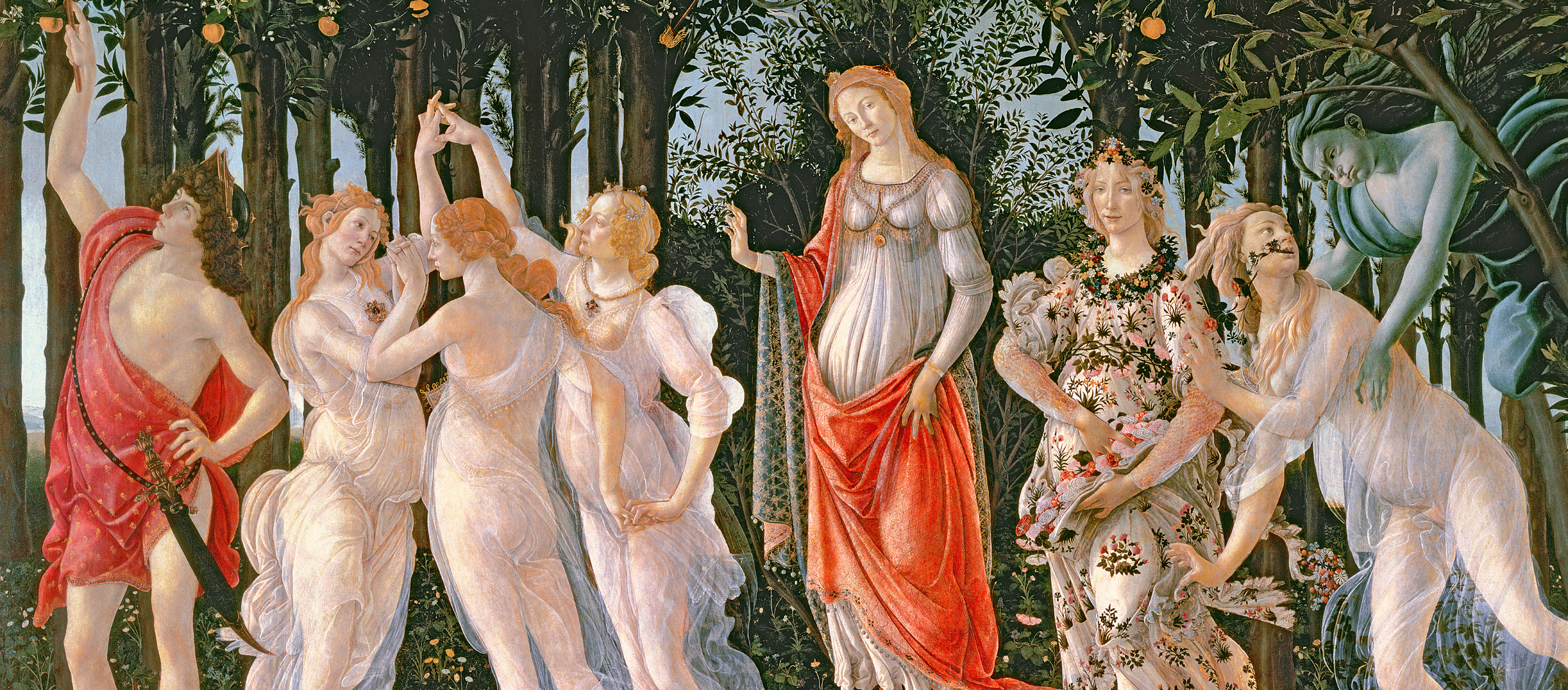 La Primavera (or The Allegory of Spring), by Sandro Botticelli, c. 1480. Galleria Degli Uffizi, Florence, Italy.
The opening of the school in the Kanawha Valley, however, brought to me one of the keenest disappointments that I ever experienced. I had been working in a salt furnace for several months, and my stepfather had discovered that I had a financial value, and so, when the school opened, he decided that he could not spare me from my work. This decision seemed to cloud my every ambition. The disappointment was made all the more severe by reason of the fact that my place of work was where I could see the happy children passing to and from school, mornings and afternoons. Despite this disappointment, however, I determined that I would learn something, anyway. I applied myself with greater earnestness than ever to the mastering of what was in the "blue-back" speller.
My mother sympathized with me in my disappointment and sought to comfort me in all the ways she could and to help me find a way to learn. After a while I succeeded in making arrangements with the teacher to give me some lessons at night, after the day's work was done. These night lessons were so welcome that I think I learned more at night than the other children did during the day. My own experiences in the night school gave me faith in the night-school idea, with which, in after years, I had to do both at Hampton and Tuskegee. But my boyish heart was still set upon going to the day school, and I let no opportunity slip to push my case. Finally I won, and was permitted to go to the school in the day for a few months, with the understanding that I was to rise early in the morning and work in the furnace till nine o'clock, and return immediately after school closed in the afternoon for at least two more hours of work.

From Up from Slavery. Born on a plantation to an unknown white father and a slave-cook mother in 1856, Washington at the age of sixteen traveled five hundred miles by train, foot, and hitchhiking on wagons to enroll at Hampton Institute in Virginia. Nine years later, he became head of the new Tuskegee Normal and Industrial Institute, a school with two buildings. When he died thirty-four years later, the Institute was instructing fifteen hundred students in more than thirty-eight trades and professions.
Issue
Back to Issue
Youth