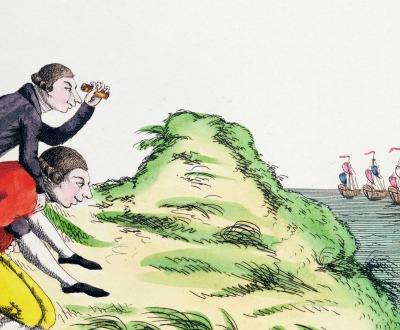 William Pitt the Younger riding on the back of George III while surveying the French squadron, 1803. © Musee de la Ville de Paris, Musee Carnavalet, Paris / Bridgeman Images.
Spies
Volume IX, Number 1 | winter 2016
Miscellany
Concerned about pigeons carrying military communications, German troops in occupied Belgium during World War I would shoot at overhead flocks. Such fears had not abated by World War II, when the British government ordered a systematic slaughter of pigeons throughout the UK, and inmates at British and Australian interment camps were banned from approaching birds on compound grounds.
If the world were good for nothing else, it is a fine subject for speculation.
—William Hazlitt, 1823
Lapham'sDaily
Stay Updated Subscribe to the LQ Newsletter

Roundtable
Another news cycle, another media mogul stirring up electoral buzz. More

DÉjÀ Vu
2018:
Man auctions Dixie cup that could have touched the lips of Elvis.
1921:
Man auctions Lord Byron's cup made from a human skull.
More

The World in Time
Lewis H. Lapham talks with Holger Hoock, author of Scars of Independence: America's Violent Birth, at a New York Public Library event. More