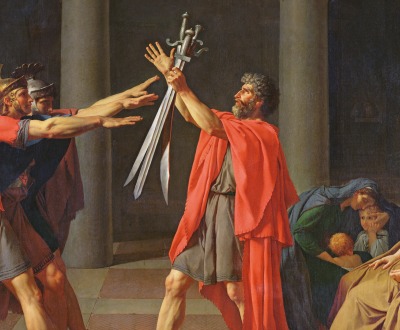 The Oath of the Horatii, by Jacques-Louis David, 1784. Louvre, Paris.
Revolutions
Volume VII, Number 2 | spring 2014
Miscellany
In one of the last letters he ever sent, in October 1913, Ambrose Bierce wrote to his niece, "Goodbye—if you hear of my being stood up against a Mexican stone wall and shot to rags, please know that I think that a pretty good way to depart this life. It beats old age, disease, or falling down the cellar stairs. To be a Gringo in Mexico—ah, that is euthanasia." His intention was to see the Mexican Revolution, but the circumstances of his death are unknown.
Nothing is more unpredictable than the mob, nothing more obscure than public opinion, nothing more deceptive than the whole political system.
—Marcus Tullius Cicero, 63
BC
Lapham'sDaily
Stay Updated Subscribe to the LQ Newsletter

Roundtable
Looking at 1968 through the eyes of photographer Ernest Withers. More

DÉjÀ Vu
2018:
Woman announces she is divorcing her pirate ghost husband.
1926:
Man sues wife for adultery with a ghost.
More

The World in Time
Lewis H. Lapham talks with Alan Rusbridger, author of Breaking News: The Remaking of Journalism and Why It Matters Now. More