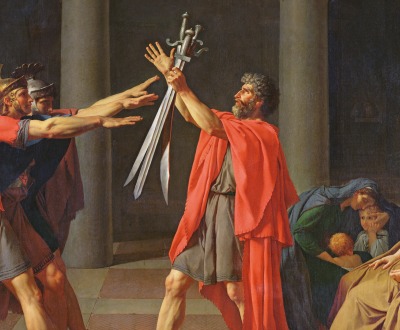 The Oath of the Horatii, by Jacques-Louis David, 1784. Louvre, Paris, France.
Revolutions
Volume VII, Number 2 | spring 2014
Miscellany
In 1987 Nike paid both Capitol Records and Michael Jackson, owner of the publication rights to much of the Beatles' catalog, a licensing fee of $500,000 to use "Revolution" in an advertisement. Lawyers for the Beatles filed a $15-million lawsuit, stating that the band didn't "endorse or peddle sneakers or pantyhose." The case was settled out of court.
Revolutions have never lightened the burden of tyranny, they have only shifted it to another shoulder.
- George Bernard Shaw, 1903
Lapham'sDaily
Stay Updated Subscribe to the LQ Newsletter

Roundtable
The extraordinary life and forgotten work of Dixie Willson. More

DÉjÀ Vu
2017:
U.S. Department of Agriculture bans words related to climate change.
-350:
Aristotle denies that the climate is changing.
More

LQ Podcast
Lewis H. Lapham talks with John Strausbaugh, author of City of Sedition: The History of New York City During the Civil War. More