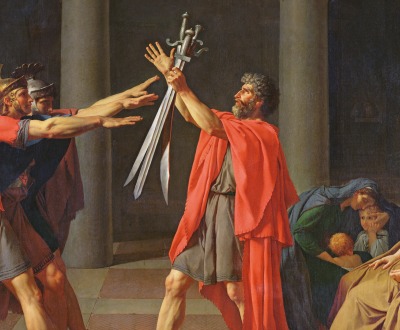 The Oath of the Horatii, by Jacques-Louis David, 1784. Louvre, Paris, France.
Revolutions
Volume VII, Number 2 | spring 2014
Miscellany
A winner of the Nobel Prize in Economics, Paul Krugman wrote in 1998, "The growth of the Internet will slow drastically, as the flaw in 'Metcalfe's law'—which states that the number of potential connections in a network is proportional to the square of the number of participants—becomes apparent: most people have nothing to say to each other! By 2005 or so, it will become clear that the Internet's impact on the economy has been no greater than the fax machine's."
Rebellion is no less a sin than divination.
—Book of Samuel,
c.
550
BC
Lapham'sDaily
Stay Updated Subscribe to the LQ Newsletter

DÉjÀ Vu
2017:
U.S. Department of Agriculture bans words related to climate change.
350 BC:
Aristotle denies that the climate is changing.
More

The World in Time
Lewis H. Lapham talks with Mark Kurlansky, author of Paper: Paging Through History. More