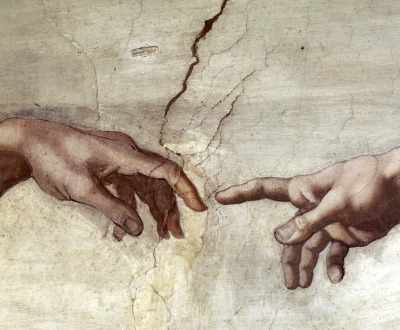 Creation of Adam (detail), Sistine Chapel Ceiling, by Michelangelo, c. 1508–1512. Vatican City, Rome, Italy. 
Religion
Volume III, Number 1 | winter 2010
Films condemned by the U.S. Conference of Catholic Bishops.
View
The important thing, I think, is not to be bitter. You know, if it turns out that there is a God, I don't think that he's evil. I think that the worst thing you could say about him is that basically he's an underachiever. After all, you know, there are worse things in life than death.
—Woody Allen, 1975
Lapham'sDaily
Stay Updated Subscribe to the LQ Newsletter

DÉjÀ Vu
2017:
U.S. Department of Agriculture bans words related to climate change.
350 BC:
Aristotle denies that the climate is changing.
More

The World in Time
Lewis H. Lapham talks with Mark Kurlansky, author of Paper: Paging Through History. More