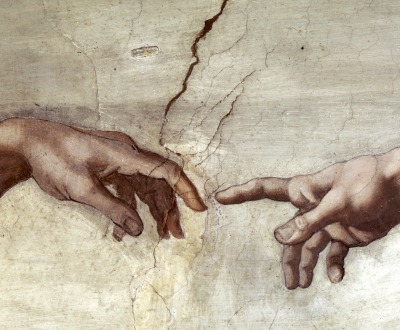 Creation of Adam (detail), Sistine Chapel Ceiling, by Michelangelo, c. 1508–1512. Vatican City, Rome, Italy. 
Religion
Volume III, Number 1 | winter 2010
Films condemned by the U.S. Conference of Catholic Bishops.
View
If God did not exist, it would be necessary to invent him.
- Voltaire, 1764
Lapham'sDaily
Stay Updated Subscribe to the LQ Newsletter

Roundtable
The extraordinary life and forgotten work of Dixie Willson. More

DÉjÀ Vu
2017:
U.S. Department of Agriculture bans words related to climate change.
-350:
Aristotle denies that the climate is changing.
More

LQ Podcast
Lewis Lapham talks with Simon Winchester, author of Pacific: Silicon Chips and Surfboards, Coral Reefs and Atom Bombs, Brutal Dictators, Fading Empires, and the Coming Collision of the World's Superpowers. More