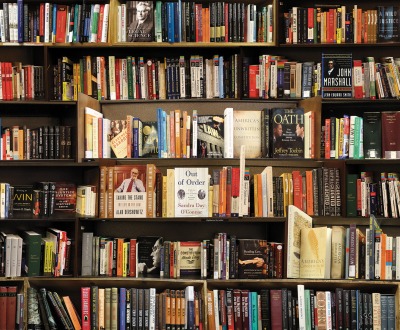 Law, from the series Bookscapes, by Max Steven Grossman, 2016. Digital photograph, 48 x 100 inches. © Max Steven Grossman, courtesy of the artist.
Rule of Law
Volume XI, Number 2 | spring 2018
Miscellany
In J.R.R. Tolkien's The Hobbit, Bilbo Baggins is hired by dwarfs to steal a dragon's treasure. The agreement in the 1937 novel is only two sentences, but the 2012 movie adaptation substantially expanded the contract; souvenir reproductions of the film prop measure five feet in length. One law blogger deemed it to be "pretty well written" despite noticing a certain inconsistency regarding whether Baggins is the dwarfs' employee or an independent contractor.
All moanday, tearsday, wailsday, thumpsday, frightday, shatterday till the fear of the Law.
—James Joyce, 1939
Lapham'sDaily
Stay Updated Subscribe to the LQ Newsletter

Roundtable
Looking at 1968 through the eyes of photographer Ernest Withers. More

DÉjÀ Vu
2018:
Woman announces she is divorcing her pirate ghost husband.
1926:
Man sues wife for adultery with a ghost.
More

The World in Time
Lewis H. Lapham talks with Alan Rusbridger, author of Breaking News: The Remaking of Journalism and Why It Matters Now. More