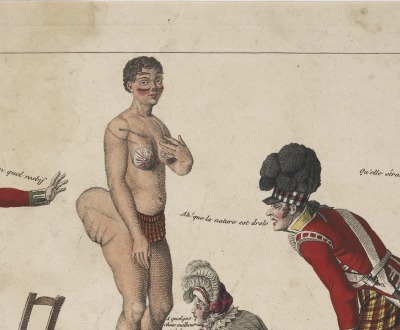 The Curious in Ecstasy or Shoelaces, by Louis François Charon, 1815. Satire of English fascination with South African–born Saartjie Baartman, who was exhibited under the name Hottentot Venus. The British Museum, London.
Foreigners
Volume VIII, Number 1 | winter 2015
Miscellany
While on his American lecture tour in 1882, Oscar Wilde drank elderberry wine with Walt Whitman; saw Niagara Falls, later noting, "Every American bride is taken there, and the sight of the stupendous waterfall must be one of the earliest, if not the keenest, disappointments in American married life"; read aloud passages from Benvenuto Cellini's autobiography to miners in Colorado; and witnessed a lynching in Louisiana.
I have said this before, but I shall say it again and again and again: your boys are not going to be sent into any foreign wars.
—Franklin D. Roosevelt, 1940
Lapham'sDaily
Stay Updated Subscribe to the LQ Newsletter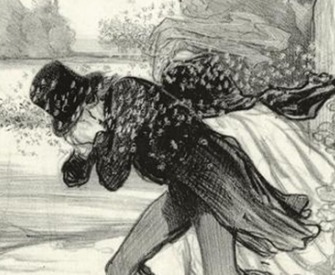 DÉjÀ Vu
2018:
The NYPD beekeeper vacuums up a swarm of bees on a hot dog stand in Times Square.
1906:
Bees take over a Los Angeles street as spectators watch.
More

The World in Time
Lewis H. Lapham talks with Jim Holt, author of When Einstein Walked with Gödel: Excursions to the Edge of Thought. More