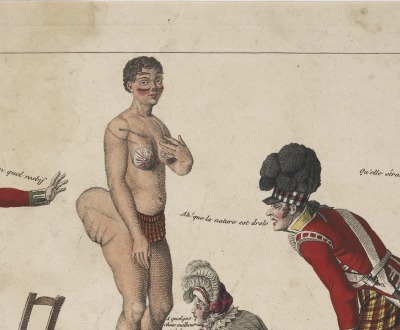 The Curious in Ecstasy or Shoelaces, by Louis François Charon, 1815. Satire of English fascination with South African–born Saartjie Baartman, who was exhibited under the name Hottentot Venus. The British Museum, London.
Foreigners
Volume VIII, Number 1 | winter 2015
Miscellany
Emma Lazarus wrote "The New Colossus" to raise money for the Statue of Liberty's pedestal fund in 1883 and soon after embarked on a ship to London to promote the cause for a Jewish homeland in Palestine. Her poem was only placed on a plaque at the foot of the "Mother of Exiles" in 1903, six years after her death.
"Abroad," that large home of ruined reputations.
—George Eliot, 1866