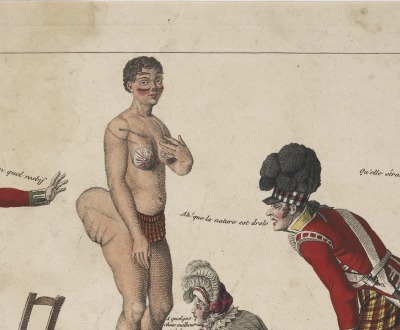 The Curious in Ecstasy or Shoelaces, by Louis François Charon, 1815. Satire of English fascination with South African-born Saartjie Baartman who was exhibited under the name Hottentot Venus. The British Museum, London.
Foreigners
Volume VIII, Number 1 | winter 2015
Miscellany
In ancient Athens if a citizen was accused of killing another citizen, he would be brought before the Areopagus, the highest court of law, and might face the death penalty. If the citizen was accused of killing a resident alien, a slave, or a foreigner, he was tried in a lower court, the Palladion, and faced, at worst, exile.
No nation is fit to sit in judgment upon any other nation.
—Woodrow Wilson, 1915