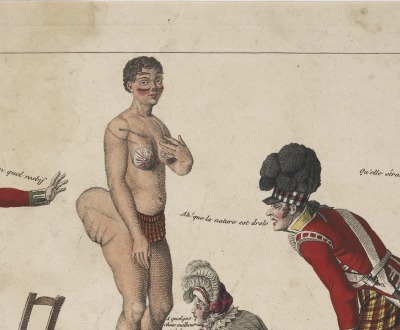 The Curious in Ecstasy or Shoelaces, by Louis François Charon, 1815. Satire of English fascination with South African–born Saartjie Baartman, who was exhibited under the name Hottentot Venus. The British Museum, London.
Foreigners
Volume VIII, Number 1 | winter 2015
Miscellany
Having come to the U.S. through Portugal, French pilot Antoine de Saint-Exupéry wrote and illustrated part of The Little Prince—one of the best-selling works of fiction of all time—in a twenty-two room mansion on Long Island in 1942. "I wanted a hut," he reflected, "and it's the Palace of Versailles."
When the missionaries first came to Africa they had the Bible and we had the land. They said, "Let us pray." We closed our eyes. When we opened them, we had the Bible and they had the land.
—Desmond Tutu, 1984
Lapham'sDaily
Stay Updated Subscribe to the LQ Newsletter

DÉjÀ Vu
2020:
Exoplanet revealed to be nothing but a large cloud of dust.
1903:
Supposed irrigation canals on Mars are merely optical illusions.
More

The World in Time
Lewis H. Lapham speaks with the author of Every Drop of Blood: The Momentous Second Inauguration of Abraham Lincoln. More