Starter Home
Robinson Crusoe builds a house.
I had been thirteen days onshore the island, and had been eleven times on board the wrecked ship, in which time I had brought away all that one pair of hands could well be supposed capable to bring.
My thoughts were now wholly employed about securing myself against either savages, if any should appear, or wild beasts, if any were in the island; and I had many thoughts of the method how to do this, and what kind of dwelling to make—whether I should make me a cave in the earth or a tent upon the earth; and, in short, I resolved upon both.
I consulted several things in my situation, which I found would be proper for me: first, health and fresh water; secondly, shelter from the heat of the sun; thirdly, security from ravenous creatures, whether man or beast; fourthly, a view to the sea, that if God sent any ship in sight, I might not lose any advantage for my deliverance, of which I was not willing to banish all my expectation yet.
In search of a place proper for this, I found a little plain on the side of a rising hill, whose front toward this little plain was steep as a house side, so that nothing could come down upon me from the top. On the one side of the rock there was a hollow place, worn a little way in, like the entrance or door of a cave, but there was not really any cave or way into the rock at all. On the flat of the green, just before this hollow place, I resolved to pitch my tent. 
I took pieces of cable which I had cut in the ship and laid them in rows, one upon another between two rows of stakes; this fence was so strong that neither man nor beast could get into it or over it. The entrance into this place I made to be, not by a door, but by a short ladder to go over the top; which ladder, when I was in, I lifted over after me; and so I was completely fenced in and fortified, as I thought, from all the world, and consequently slept secure in the night.
Into this fortress, with infinite labor, I carried all my riches, all my provisions, ammunition, and stores; and I made a large tent, which to preserve me from the rains that in one part of the year are very violent there. And now I lay no more for a while in the bed which I had brought onshore, but in a hammock, which was indeed a very good one and belonged to the mate of the ship.
I then began to work my way into the rock, and bringing all the earth and stones that I dug down out through my tent, I laid them up within my fence, in the nature of a terrace, so that it raised the ground within about a foot and a half; and thus I made me a cave, just behind my tent, which served me like a cellar to my house. 
Every man has a lurking wish to appear considerable in his native place.
—Samuel Johnson, 1771
Among the many things which I brought out of the ship, I got several things of less value than ammunition and stores, but not at all less useful to me; as, in particular, pens, ink, and paper, several parcels in the captain's, mate's, gunner's, and carpenter's keeping; three or four compasses, some mathematical instruments, dials, perspectives, charts, and books of navigation, all which I huddled together, whether I might want them or no; also, I found three very good Bibles, which came to me in my cargo from England, and which I had packed up among my things; some Portuguese books also; and among them two or three Popish prayer books, and several other books, all which I carefully secured. And I must not forget that we had in the ship a dog and two cats; I carried both the cats with me; and as for the dog, he jumped out of the ship of himself and swam onshore to me the day after I went onshore with my first cargo, and was a trusty servant to me many years.
I began to apply myself to arrange my way of living, and to make things as easy to me as I could. I had brought all my goods into this pale, and into the cave, but the confused heap of goods took up all my place; I had no room to turn myself, so I set myself to enlarge my cave, and work farther into the earth; for it was a loose, sandy rock. This gave me room to store my goods.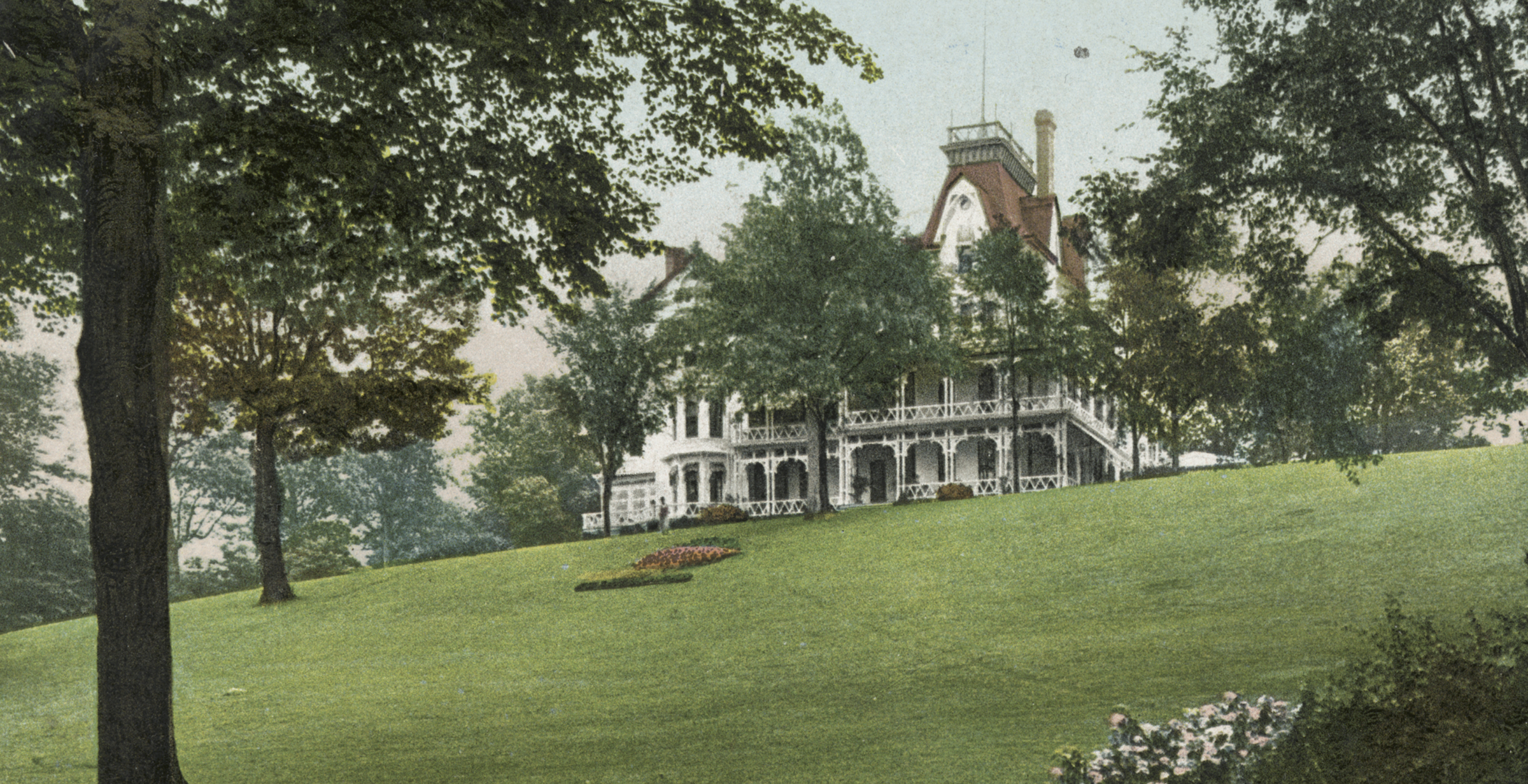 John D. Rockefeller's residence, Forest Hill, Cleveland, c. 1908. © The Miriam and Ira D. Wallach Division of Art, Prints and Photographs: Photography Collection, the New York Public Library.
And now I began to apply myself to make such necessary things as I found I most wanted, particularly a chair and a table; for without these I was not able to enjoy the few comforts I had in the world; I could not write or eat or do several things with so much pleasure without a table, so I went to work. 
I made a table and a chair out of the short pieces of boards that I brought on my raft from the ship. Then I made large shelves, one over another all along one side of my cave, to lay all my tools, nails, and ironwork on; and, in a word, to separate everything at large into their places, that I might come easily at them. I knocked pieces into the wall of the rock to hang my guns and all things that would hang up; so that, had my cave been to be seen, it looked like a general magazine of all necessary things; and had everything so ready at my hand that it was a great pleasure to me to see all my goods in such order, and especially to find my stock of all necessaries so great.
Now it was that I began to keep a journal of every day's employment; for, indeed, at first I was in too much hurry, and not only hurry as to labor, but in too much discomposure of mind; and my journal would have been full of many dull things; for example, I must have said thus:
Sept. 30—After I had got to shore and escaped drowning, instead of being thankful to God for my deliverance, having first vomited, with the great quantity of saltwater which had got into my stomach, and recovering myself a little, I ran about the shore wringing my hands and beating my head and face, exclaiming at my misery, and crying out, "I was undone, undone!" till, tired and faint, I was forced to lie down on the ground to repose, but durst not sleep for fear of being devoured. 
Some days after this, I could not forbear getting up to the top of a little mountain and looking out to sea, then fancy at a vast distance I spied a sail, please myself with the hopes of it, and then after looking steadily, till I was almost blind, lose it quite, and sit down and weep like a child, and thus increase my misery by my folly. But having gotten over these things in some measure, and having settled my household staff and habitation, made me a table and a chair, and all as handsome about me as I could, I began to keep my journal.
From Robinson Crusoe. Literary scholar Julia Prewitt Brown wrote in 2008 that Crusoe's cave, "with its handcrafted table and chair and its inventory of useful objects arranged on shelves," represents "the first bourgeois interior in English fiction." Born Daniel Foe in London in 1660, Defoe published Robinson Crusoe in 1719 and thought of the book as "allegoric history." Since his death, many have argued that he based the character on Scottish sailor Alexander Selkirk, marooned in the South Seas in 1704.
Issue
Back to Issue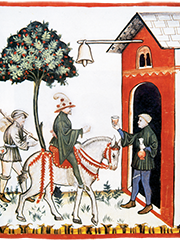 Home