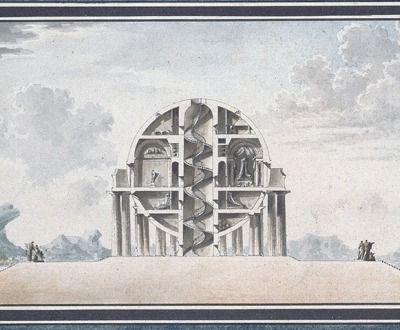 Design for a House for a Cosmopolite, by Antoine-Laurent-Thomas Vaudoyer, 1783. Private Collection / Archives Charmet / Bridgeman Images.
Home
Volume X, Number 1 | winter 2017
Miscellany
Roman architect Vitruvius hated the first-century-bc design trend of walls painted with fantastic images. "On the stucco are monsters," he wrote of a house whose walls also showed plant stalks and candelabra painted to mimic structural supports. "Such things neither are, nor can be, nor have been," he complained. "The new fashions compel bad judges to condemn good craftsmanship for dullness." 
In the matter of furnishing, I find a certain absence of ugliness far worse than ugliness.
—Colette, 1944
Lapham'sDaily
Stay Updated Subscribe to the LQ Newsletter

DÉjÀ Vu
2020:
Exoplanet revealed to be nothing but a large cloud of dust.
1903:
Supposed irrigation canals on Mars are merely optical illusions.
More

The World in Time
Lewis H. Lapham speaks with the author of Hitler's First Hundred Days: When Germans Embraced the Third Reich. More