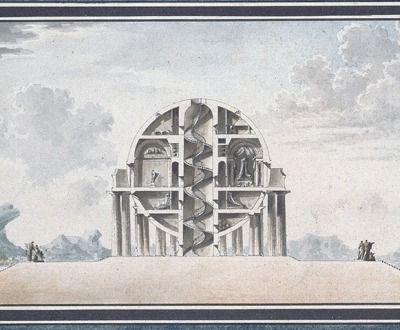 Design for a House for a Cosmopolite, by Antoine-Laurent-Thomas Vaudoyer, 1783. Private Collection / Archives Charmet / Bridgeman Images.
Home
Volume X, Number 1 | winter 2017
Miscellany
May 1 was codifed in 1820 as the date housing contracts in New York City expired or were renewed. Davy Crockett witnessed moving day in 1834. "It seemed a kind of frolic, as if they were changing houses just for fun," he wrote. "Every street was crowded with carts, drays, and people. So the world goes. It would take a good deal to get me out of my log house, but here, I understand, many persons 'move' every year." 
God walks among the pots and pans.
—Saint Teresa of Ávila,
c.
1582