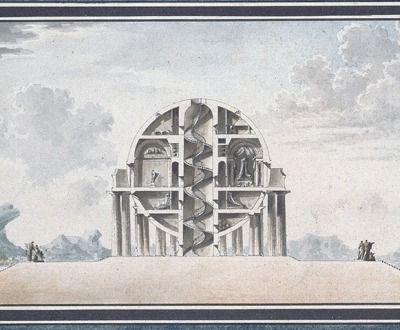 Design for a House for a Cosmopolite, by Antoine-Laurent-Thomas Vaudoyer, 1783. © Private Collection / Archives Charmet / Bridgeman Images.
Home
Volume X, Number 1 | winter 2017
Miscellany
Analytic philosopher Ludwig Wittgenstein was asked in 1926 by his youngest sister to help plan her new house. He quickly became obsessed, taking a year to design the door handles, another for the radiators. Near the project's completion, he demanded the ceiling be raised thirty millimeters to achieve his desired proportions. "It seemed indeed to be much more a dwelling for the gods," wrote another Wittgenstein sister, "than for a small mortal like me."
People can say what they like about the eternal verities, love and truth and so on, but nothing's as eternal as the dishes.
—Margaret Mahy, 1985
Lapham'sDaily
Stay Updated Subscribe to the LQ Newsletter

Roundtable
Another news cycle, another media mogul stirring up electoral buzz. More

DÉjÀ Vu
2018:
Man auctions Dixie cup that could have touched the lips of Elvis.
1921:
Man auctions Lord Byron's cup made from a human skull.
More

The World in Time
Lewis H. Lapham talks with Holger Hoock, author of Scars of Independence: America's Violent Birth, at a New York Public Library event. More