The Destruction of Tyre, by John Martin, 1840. © Toledo Museum of Art, purchased with funds from the Libbey Endowment, gift of Edward Drummond Libbey.
Fear
Volume X, Number 3 | summer 2017
Miscellany
A Hindu myth holds that the universe began as soul in the form of man, who looked around, saw nothing, and felt afraid. "Therefore," goes the story, "one who is all alone is afraid." The man reflected, "Since there is nothing other than me, of what am I afraid?" His fear vanished, since a being only "becomes afraid of a second." But he felt no joy, so he created a female companion: a second being, whom he could fear.
I wants to make your flesh creep.
—Charles Dickens, 1837
Lapham'sDaily
Stay Updated Subscribe to the LQ Newsletter

Roundtable
A debate in Berkeley about the power of a name. More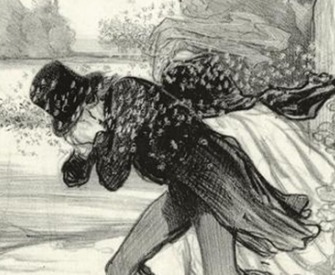 DÉjÀ Vu
2018:
The NYPD beekeeper vacuums up a swarm of bees on a hot dog stand in Times Square.
1906:
Bees take over a Los Angeles street as spectators watch.
More

The World in Time
Lewis H. Lapham talks with Jim Holt, author of When Einstein Walked with Gödel: Excursions to the Edge of Thought. More