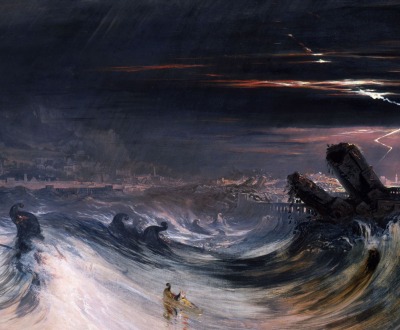 The Destruction of Tyre, by John Martin, 1840. © Toledo Museum of Art, purchased with funds from the Libbey Endowment, gift of Edward Drummond Libbey.
Fear
Volume X, Number 3 | summer 2017
Miscellany
Engineers at the University of Illinois published a paper in 1960 predicting doomsday would occur November 13, 2026, based on calculations of human-population growth; they hoped "some time, somehow, something will happen that will stop this ever-faster race to self-destruction." One idea was space travel. "It is only unfortunate," they wrote, "that no reentry permit to earth can be given to these space trotters."
The "Bulletin of the Atomic Scientists" adjusts the doomsday clock.
View
Worry over what has not occurred is a serious malady.
- Solomon ibn Gabirol, 1050
Lapham'sDaily
Stay Updated Subscribe to the LQ Newsletter

Roundtable
The extraordinary life and forgotten work of Dixie Willson. More

DÉjÀ Vu
2017:
U.S. Department of Agriculture bans words related to climate change.
-350:
Aristotle denies that the climate is changing.
More

LQ Podcast
Lewis Lapham talks with Simon Winchester, author of Pacific: Silicon Chips and Surfboards, Coral Reefs and Atom Bombs, Brutal Dictators, Fading Empires, and the Coming Collision of the World's Superpowers. More