The Destruction of Tyre, by John Martin, 1840. © Toledo Museum of Art, purchased with funds from the Libbey Endowment, gift of Edward Drummond Libbey.
Fear
Volume X, Number 3 | summer 2017
Miscellany
As a youth, the writer V.S. Naipaul struggled with hysteria. He described watching the film The African Queen while at Oxford: "Just when Bogart said something to Katharine Hepburn about sleeping one off or something, I could take it no longer and left the cinema. What form did it take? One was terrified of human beings. One didn't wish to show oneself to them." Naipaul claimed he cured himself over a two-year period. "Intellect and will," he said, "intellect and will."
Fear is the foundation of most governments.
—John Adams, 1776
Lapham'sDaily
Stay Updated Subscribe to the LQ Newsletter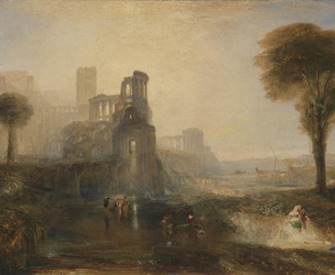 DÉjÀ Vu
2021:
Woman creates an NFT artwork out of Instagram messages with a celebrity.
1757:
Woman creates an epistolary novel out of love letters with a nobleman.
More

The World in Time
Lewis H. Lapham speaks with the author of American Republics: A Continental History of the United States, 1783–1850. More