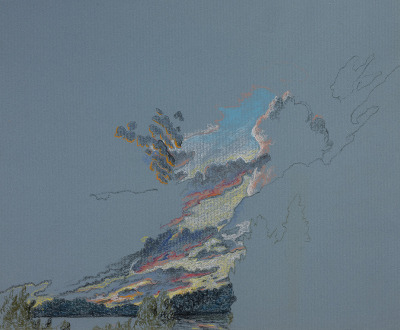 Preliminary sketch for mural The History of Labor in America, the 17th Century: Colonization, by Jack Beal, c. 1975. Smithsonian American Art Museum, transfer from the General Services Administration, Art-in-Architecture Program, 1977.
"We're at a moment now," Kermit Roosevelt III says of our national mythology on this episode of The World in Time, "where the standard story isn't working for us anymore. And I think in part it's not working for us because it actually teaches us bad lessons. It teaches us that violent revolution against the national government, treason against the national government, is American patriotism, which I think is a bad lesson. But it's also inaccurate in a lot of ways. And it requires us to identify with people like Thomas Jefferson, which, frankly, I find pretty difficult and I think a lot of people find difficult…And there's a struggle about how to deal with that because people want a story that's accurate, that's honest, that doesn't downplay bad things that have been done in the past, which our standard story does a lot. But they also want a story that allows us to see an America that we believe in, that we can love, that we can feel patriotic attachment to. And that's what I'm trying to offer."
This week on the podcast, Lewis H. Lapham speaks with Kermit Roosevelt III, author of The Nation That Never Was: Reconstructing America's Story.
Thanks to our generous donors. Lead support for this podcast has been provided by Elizabeth "Lisette" Prince. Additional support was provided by James J. "Jimmy" Coleman Jr.
Discussed in this episode