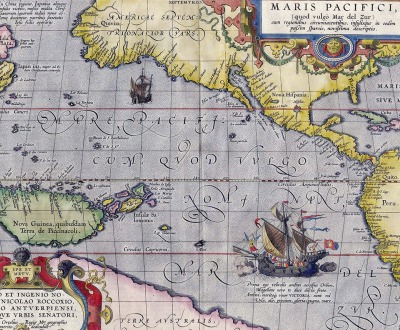 Until the fifteenth century the only sea that mattered (politically, socially, and economically) was the Mediterranean. As sixteenth-century European explorers set sail in search of land and opportunity, it was the Atlantic that carried them from old worlds to new. Since the middle of the twentieth century, argues Simon Winchester, it's been the Pacific Ocean that dominates trade, travel, and scientific research, and it's on, in, and under the Pacific that the future of the world will be forged.
Lewis Lapham talks with Simon Winchester, author of Pacific: Silicon Chips and Surfboards, Coral Reefs and Atom Bombs, Brutal Dictators, Fading Empires, and the Coming Collision of the World's Superpowers.
Read an excerpt from Simon Winchester's Pacific in Disaster. 
Thanks to our generous donors. Lead support for this podcast has been provided by Lisette Prince through the EJMP Fund for Philanthropy. Additional support was provided by James J. "Jimmy" Coleman Jr.
Discussed in this episode