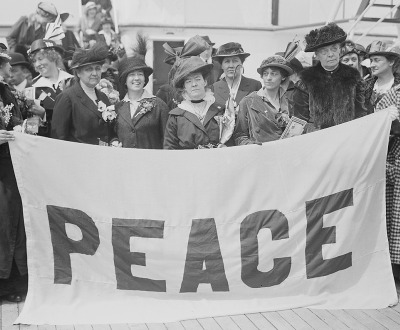 U.S. delegates to the International Congress of Women at the Hague, aboard the MS Noordam, 1915. Library of Congress, Prints and Photographs Division, George Grantham Bain Collection.
Why did World War I begin? Why did America enter the conflict? What place does the war hold in American historical memory? These are questions historian Michael Kazin asks his Georgetown University students, and many of them are stumped. When Woodrow Wilson plunged the country headfirst into its first European fight, he was met with resistance from nearly every corner of American society—in New York City, a women's march for peace was organized along Fifth Avenue. Today there is no memorial on the National Mall to the American soldiers who fought in the war, but understanding the complex social, political, and economic forces that birthed the war—and American involvement in it—is more crucial than ever.
Lewis Lapham talks to Michael Kazin, author of War Against War: The American Fight for Peace, 1914-1918.
Thanks to our generous donors. Lead support for this podcast has been provided by Lisette Prince through the EJMP Fund for Philanthropy. Additional support was provided by James J. "Jimmy" Coleman Jr.
Discussed in this episode