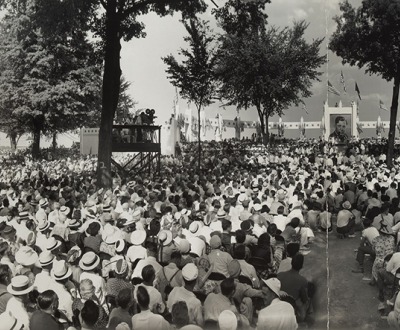 Wendell Willkie's notification ceremony, Elwood, Indiana, August 17, 1940. Photograph by Charles J. Bell. Library of Congress, Prints and Photographs Division.
Wendell Willkie "was a godsend to this country when we needed him most," Franklin Delano Roosevelt once told an aide. It's not the kind of remark you'd expect an incumbent president to say about his opponent, but 1940 stands out among a history of elections: Roosevelt was running for a third term, war hovered over all decisions, and a businessman who used to be a Democrat wound up on the Republican ticket—and ended up consequentially siding with Roosevelt on many issues. Pulitzer Prize winner David Levering Lewis has a new book out about the often forgotten Willkie in which he outlines the man's life and influence in politics, civil rights, and history. Earlier this month, Lewis spoke with Lewis Lapham about his biography of Willkie at an event at the New York Public Library. Listen to their conversation above.
Lewis H. Lapham talks with David Levering Lewis, author of The Improbable Wendell Willkie: The Businessman Who Saved the Republican Party and His Country, and Conceived a New World Order.
Thanks to our generous donors. Lead support for this podcast has been provided by Elizabeth "Lisette" Prince. Additional support was provided by James J. "Jimmy" Coleman Jr.
Discussed in this episode