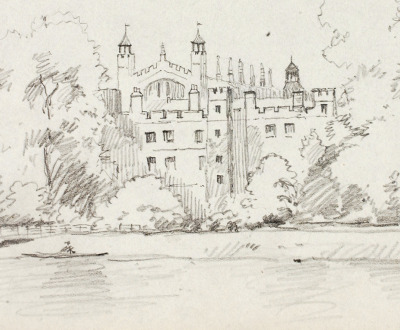 Eton College from the River, by George Elbert Burr, 1899. Smithsonian American Art Museum, bequest of Carolann Smurthwaite in memory of her mother, Caroline Atherton Connell Smurthwaite.
"The problem with meritocracy," political philosopher Michael J. Sandel writes in his book The Tyranny of Merit, "is not only that the practice falls short of the ideal. If that were the problem, the solution would consist in perfecting equality of opportunity, in seeking a society in which people could, whatever their starting point in life, truly rise as far as their efforts and talents would take them. But it is doubtful that even a perfect meritocracy would be satisfying, either morally or politically."
This week on The World in Time, Lewis H. Lapham and Sandel discuss how "the relentless emphasis on creating a fair meritocracy, in which social positions reflect effort and talent, has a corrosive effect on the way we interpret success (or the lack of it)."
Lewis H. Lapham speaks with Michael J. Sandel, author of The Tyranny of Merit: What's Become of the Common Good?
Thanks to our generous donors. Lead support for this podcast has been provided by Elizabeth "Lisette" Prince. Additional support was provided by James J. "Jimmy" Coleman Jr.
Discussed in this episode