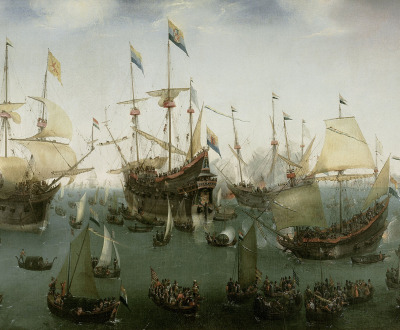 Return to Amsterdam of the Second Expedition to the East Indies, by Hendrik Cornelisz Vroom, 1599. Rijksmuseum.
Trade
Volume XII, Number 2 | spring 2019
Miscellany
In an 1846 math textbook from the Free Grammar School of King Edward VI, one exercise considers an exchange of 450 bags of potatoes for cash, 15 chests of oranges, and 185 bushels of carrots; the remainder is nuts. The question is posed: "How many bags of nuts did I receive?"
You must not grow used to making money out of everything. One sees more people ruined than one has seen preserved by shameful gains.
—Sophocles,
c.
442
BC