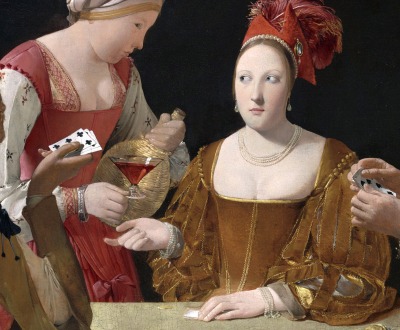 The Cheat with the Ace of Diamonds, by George de la Tour, c. 1635. Louvre Museum, Paris.
Swindle & Fraud
Volume VIII, Number 2 | spring 2015
Miscellany
Pianist and oil heir Roger Davidson brought his computer into a service shop in Mount Kisco, New York, in 2004, complaining of a virus. The owner, Vickram Bedi, confirmed there was a virus and claimed its source was a hard drive in Honduras, which he later explained was linked to an international conspiracy involving Opus Dei that threatened Davidson's life. Over the course of six years, Bedi charged Davidson over $6 million for data retrieval and personal protection. Bedi was sentenced to jail in 2013.
Alongside all swindlers the state now stands there as swindler-in-chief.
—Jacob Burckhardt,
c.
1875
Lapham'sDaily
Stay Updated Subscribe to the LQ Newsletter

Roundtable
A fight over all things visible and invisible, featuring practical magic, empire, and terrible men. More

DÉjÀ Vu
2018:
Woman announces she is divorcing her pirate ghost husband.
1926:
Man sues wife for adultery with a ghost.
More

The World in Time
Lewis H. Lapham talks with Alan Rusbridger, author of Breaking News: The Remaking of Journalism and Why It Matters Now. More