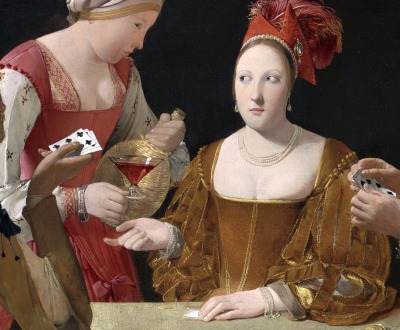 The Cheat With the Ace of Diamonds, by George de la Tour, c. 1635. Louvre Museum, Paris.
Swindle & Fraud
Volume VIII, Number 2 | spring 2015
Miscellany
In Either/Or: A Fragment of Life, published in 1843, Søren Kierkegaard wrote, "What philosophers say about actuality is often just as disappointing as it is when one reads on a sign in a secondhand shop: pressing done here. If a person were to bring his clothes to be pressed, he would be duped, for the sign is merely for sale."​
If you steal, do not steal too much at a time. You may be arrested. Steal cleverly, little by little.
- Mobutu Sese Seko, 1991
Lapham'sDaily
Stay Updated Subscribe to the LQ Newsletter

Roundtable
The extraordinary life and forgotten work of Dixie Willson. More

DÉjÀ Vu
2017:
U.S. Department of Agriculture bans words related to climate change.
-350:
Aristotle denies that the climate is changing.
More

LQ Podcast
Lewis H. Lapham talks with John Strausbaugh, author of City of Sedition: The History of New York City During the Civil War. More