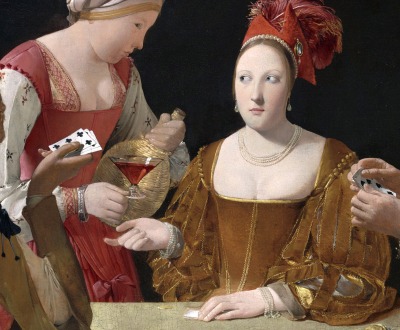 The Cheat With the Ace of Diamonds, by George de la Tour, c. 1635. Louvre Museum, Paris.
Swindle & Fraud
Volume VIII, Number 2 | spring 2015
Miscellany
Vladimir Nabokov referred to Thomas Mann once as a "quack" and to Ezra Pound as "that total fake."
If you steal, do not steal too much at a time. You may be arrested. Steal cleverly, little by little.
—Mobutu Sese Seko, 1991
Lapham'sDaily
Stay Updated Subscribe to the LQ Newsletter

DÉjÀ Vu
2017:
U.S. Department of Agriculture bans words related to climate change.
350 BC:
Aristotle denies that the climate is changing.
More

The World in Time
Lewis H. Lapham talks with Roger D. Hodge, author of Texas Blood: Seven Generations Among the Outlaws, Ranchers, Indians, Missionaries, Soldiers, and Smugglers of the Borderlands. More