Addressing the Troops
General Patton makes a statement.
Men, this stuff that some sources sling around about America wanting out of this war, not wanting to fight, is a crock of bullshit. Americans love to fight, traditionally. All real Americans love the sting and clash of battle.
You are here today for three reasons. First, because you are here to defend your homes and your loved ones. Second, you are here for your own self-respect, because you would not want to be anywhere else. Third, you are here because you are real men and all real men like to fight. When you, here, every one of you, were kids, you all admired the champion marble player, the fastest runner, the toughest boxer, the big league ball players, and the All-American football players. Americans love a winner. Americans will not tolerate a loser. Americans despise cowards. Americans play to win all of the time. I wouldn't give a hoot in hell for a man who lost and laughed. That's why Americans have never lost nor will ever lose a war; for the very idea of losing is hateful to an American.
You are not all going to die. Only two percent of you right here today would die in a major battle. Death must not be feared. Death, in time, comes to all men. Yes, every man is scared in his first battle. If he says he's not, he's a liar. Some men are cowards, but they fight the same as the brave men or they get the hell slammed out of them watching men fight who are just as scared as they are. The real hero is the man who fights even though he is scared. Some men get over their fright in a minute under fire. For some, it takes an hour. For some, it takes days. But a real man will never let his fear of death overpower his honor, his sense of duty to his country, and his innate manhood. Battle is the most magnificent competition in which a human being can indulge. It brings out all that is best and it removes all that is base. Americans pride themselves on being He-Men, and they are He-Men.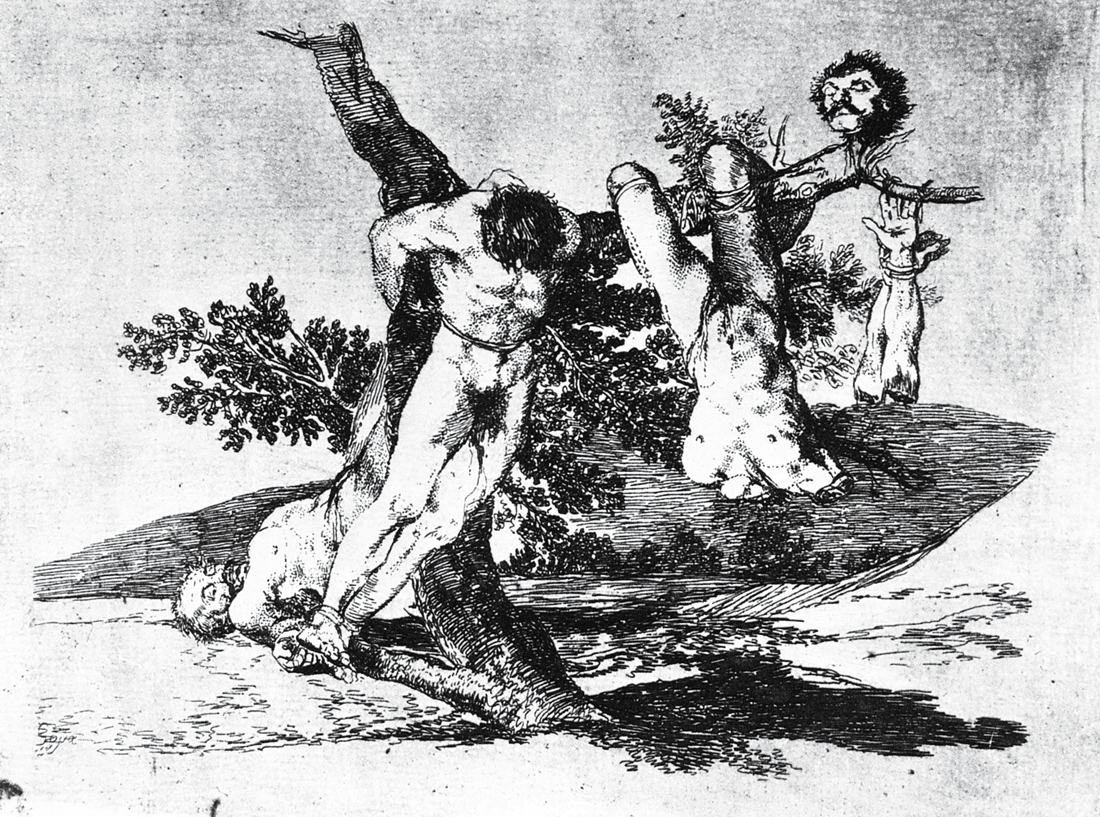 Heroic Feat! Against the Dead!, from The Disasters of War, by Francisco de Goya y Lucientes, 1814. Prado Museum, Madrid. 
Sure, we want to go home. We want this war over with. The quickest way to get it over with is to go get the bastards who started it. The quicker they are whipped, the quicker we can go home. The shortest way home is through Berlin and Tokyo. And when we get to Berlin, I am personally going to shoot that paper-hanging son of a bitch Hitler. Just like I'd shoot a snake!
When a man is lying in a shell hole, if he just stays there all day, a German will get to him eventually. The hell with that idea. The hell with taking it. My men don't dig foxholes. I don't want them to. Foxholes only slow up an offensive. Keep moving. And don't give the enemy time to dig one either. We'll win this war, but we'll win it only by fighting and by showing the Germans that we've got more guts than they have, or ever will have. We're not going to just shoot the sons of bitches, we're going to rip out their living goddamned guts and use them to grease the treads of our tanks. We're going to murder those lousy Hun cocksuckers by the bushel-fucking-basket.
War is a bloody, killing business. You've got to spill their blood, or they will spill yours. Rip them up the belly. Shoot them in the guts. When shells are hitting all around you, and you wipe the dirt off your face and realize that instead of dirt it's the blood and guts of what once was your best friend beside you, you'll know what to do! I don't want to get any messages saying, "I am holding my position." We are not holding a goddamned thing. Let the Germans do that. We are advancing constantly, and we are not interested in holding onto anything except the enemy's balls. We are going to twist his balls and kick the living shit out of him all of the time. Our basic plan of operation is to advance and to keep on advancing regardless of whether we have to go over, under, or through the enemy. We are going to go through him like crap through a goose, like shit through a tin horn!
Don't talk to me about naval tradition. It's nothing but rum, sodomy, and the lash.
—Winston Churchill, 1939
From time to time there will be some complaints that we are pushing our people too hard. I don't give a good goddamn about such complaints. I believe in the old and sound rule that an ounce of sweat will save a gallon of blood. The harder we push, the more Germans we will kill. The more Germans we kill, the fewer of our men will be killed. Pushing means fewer casualties. I want you all to remember that.
There is one great thing that you men will all be able to say after this war is over and you are home once again. You may be thankful that twenty years from now, when you are sitting by the fireplace with your grandson on your knee and he asks you what you did in the great World War II, you won't have to cough, shift him to the other knee, and say, "Well, your granddaddy shoveled shit in Louisiana." No sir, you can look him straight in the eye and say, "Son, your granddaddy rode with the great Third Army and a son of a goddamned bitch named Georgie Patton!" That is all. 

In charge of the U.S. Third Army in June 1944, Patton felt obliged to explain the basic plan of operation prior to the invasion of northern France.
Issue
Back to Issue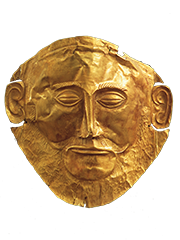 States of War