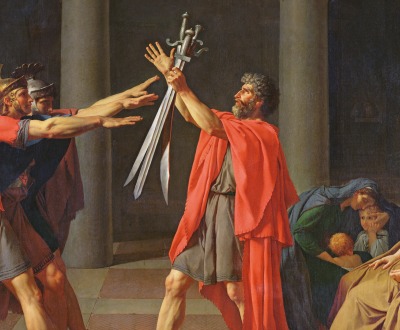 The Oath of the Horatii, by Jacques-Louis David, 1784. Louvre, Paris.
Revolutions
Volume VII, Number 2 | spring 2014
Miscellany
On July 13, 1793, a Girondist young woman stabbed to death the Montagnard Jean-Paul Marat, editor of The Friend of the People. The state funeral was arranged by Jacques-Louis David, who soon afterward painted his Death of Marat; every member of the National Convention came, and the Marquis de Sade delivered the eulogy. 
All successful revolutions are the kicking in of a rotten door. The violence of revolutions is the violence of men who charge into a vacuum.
—John Kenneth Galbraith, 1977