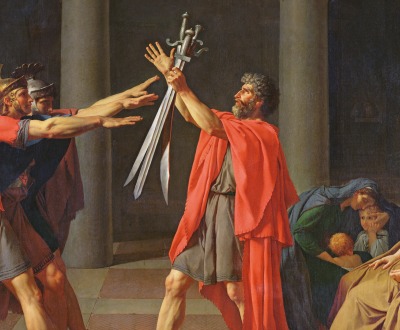 The Oath of the Horatii, by Jacques-Louis David, 1784. Louvre, Paris.
Revolutions
Volume VII, Number 2 | spring 2014
Miscellany
A character in Stendhal's The Red and the Black, which is set in the run-up to the July Revolution in France, says at one point, "Politics…is a stone tied round the neck of literature which submerges it in less than six months. Politics in the midst of imaginative matter is like a pistol shot in the middle of a concert. The noise is racking without being energetic. It does not harmonize with the sound of any instrument."
The surest guide to the correctness of the path that women take is joy in the struggle. Revolution is the festival of the oppressed.
—Germaine Greer, 1970
Lapham'sDaily
Stay Updated Subscribe to the LQ Newsletter

Roundtable
A fight over all things visible and invisible, featuring practical magic, empire, and terrible men. More

DÉjÀ Vu
2018:
Woman announces she is divorcing her pirate ghost husband.
1926:
Man sues wife for adultery with a ghost.
More

The World in Time
Lewis H. Lapham talks with Alan Rusbridger, author of Breaking News: The Remaking of Journalism and Why It Matters Now. More