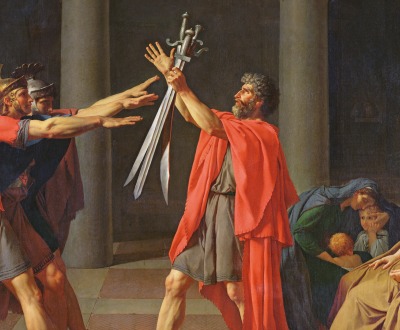 The Oath of the Horatii, by Jacques-Louis David, 1784. Louvre, Paris, France.
Revolutions
Volume VII, Number 2 | spring 2014
Miscellany
In Britain in 60, Boudicca, queen of the Iceni tribe, led a revolt against the occupying Romans. According to the historian Tacitus, her forces killed seventy thousand people, sacking and burning the cities later known as St. Albans, Colchester, and London. "We must conquer in the line of battle or fall," she announced before her final charge. "That is the fate of this woman; let men live on as slaves if they wish."
No one makes a revolution by himself, and there are some revolutions which humanity accomplishes without quite knowing how, because it is everybody who takes them in hand.
—George Sand, 1851
Lapham'sDaily
Stay Updated Subscribe to the LQ Newsletter

Roundtable
The treatment of each batch of new immigrants sounds familiar, even if we don't remember where we heard this refrain before. More

DÉjÀ Vu
2018:
Trump humiliates underlings with firings; the media reports metaphoric "stays of execution."
c. 40:
Caligula condemns underlings to fight wild beasts after they fail to acknowledge his genius.
More

The World in Time
Lewis H. Lapham talks with Richard White, author of The Republic for Which It Stands: The United States during Reconstruction and the Gilded Age, 1865–1896. More